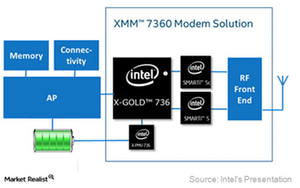 Could Intel Be Serious Competition to Qualcomm as Apple Supplier?
What's up with Intel and the iPhone 7?
In the previous part of this series, we saw that Qualcomm's (QCOM) new Snapdragon 820 received a good response from high- and low-tier handset makers. We also saw that the company has secured some orders from Samsung (SSNLF), its key customer.
On the other hand, trouble looms with another key customer, Apple (AAPL). According to a VentureBeat article, Apple is looking to source some of its LTE (Long-Term Evolution) modems from Intel (INTC).
Whether this is true and what impact it might have on all three parties—QCOM, INTC, and AAPL—is yet to be seen.
According to an unnamed source, Intel deployed up to 1,000 people in October 2015 to integrate its 7360 LTE modem chip into the iPhone 7. The project aims to develop a small, high-performance, low-power SoC (system-on-chip) that houses both the A-series processor and the LTE modem.
Article continues below advertisement
What's in it for Intel?
If this news holds true, it would be a turnaround for Intel's mobile business, which posted losses of more than $3 billion in fiscal 2015. Analysts believe that Intel might have resorted to contra-revenue (selling chips at discounted rates) to secure Apple's contract.
Moreover, if Apple decides to use Intel's processors, the latter can license its IP (intellectual property) to the former in return for a royalty.
What's in it for Apple?
If we look from Apple's perspective, it stands to gain a lot by signing with Intel. First, it can pressure Qualcomm to have more favorable prices. Second, partnering with Intel will give Apple access to the former's advanced chip manufacturing facilities.
Currently, Apple relies on Taiwan's (EWT) Taiwan Semiconductor Manufacturing (or TSMC) (TSM) to manufacture chips. This came after Apple received feedback that TSMC's A9 processors are more power-efficient than Samsung's A9 processors. With Intel as a partner, Apple can manufacture chips at both TSMC and Intel foundries.
Finally, Apple can buy SoCs from Intel at a cheaper price.
Impact on Qualcomm
If the deal materializes, it may bode well for both Intel and Apple, and it may negatively impact Qualcomm, which has been supplying Apple with LTE modems for years. In its fiscal 2015 earnings release, Qualcomm stated that Apple's top supplier Foxconn and other Apple suppliers accounted for more than 10% of its revenue. Qualcomm could potentially lose up to a third of a share in the iPhone 7 to Intel, according to Credit Suisse analyst Kulbinder Garcha.