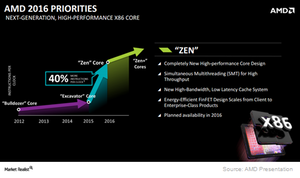 Inside AMD's Goals with Zen: Taking on Intel
By Puja Tayal

Updated
AMD looks to compete with Intel through Zen
While Advanced Micro Devices' (AMD) Polaris GPU faces competition from NVIDIA's Pascal GPU, the scenario is completely different in the microprocessor space. For years, AMD has been struggling to compete with Intel (INTC) in PC processors and servers.
In 2012, AMD decided to launch its x86 processors, "Zen" core, to compete with Intel's x86 processors. Let's look at some features of Zen that are scheduled for launch in calendar 4Q16.
Article continues below advertisement
Zen at a glance
AMD's Zen has a new high-performance core design and is expected to improve IPC (instructions per clock) by up to 40% as compared to its current Excavator core. If AMD combined its HBM 2 (high bandwidth memory) technology and Pascal GPU (graphic processing unit) in Zen, it may differentiate itself from Intel processors.
The 14nm FinFET node
While AMD may use its GPU technology to get an edge over Intel processors, it has tried to reduce the technology gap between the two companies' processors. AMD could build Zen on Samsung (SSNLF) and Global Foundries' 14nm FinFET (fin-shaped field effect transistor) technology, making it competitive with Intel's Skylake and Broadwell processors, which are also built on the 14nm FinFET node.
Article continues below advertisement
32 physical cores
Zen will pack 32 cores in several stacks, with each stack containing eight cores. This would give AMD flexibility to launch several models of eight, 16, 24, and 32 cores. Unlike AMD's multi-chip design, Intel uses single CPU design. AMD would offer 8-core FX series processors for desktop consumer platforms. Intel would offer a 10-core processor for the upcoming Broadwell-E HEDT and 22-core processor for the Broadwell-EP generation.
The Technology Select Sector SPDR Fund (XLK) has ~9.6% exposure to semiconductor stocks, including ~3.1% to INTC and 0.45% to NVDA.
Simultaneous multithreading
Zen features simultaneous multithreading that allows multiple workloads to be executed on a single core simultaneously. Zen is also configurable, and so it can be configured to the type of workload—high or low. AMD has also redesigned its cache subsystem to feed those execution cores appropriately. In this sense, the multithreading design brings AMD closer to Intel, which has been using hyperthreading in its systems.
Without a doubt, AMD has set Zen up to pose strong competition to Intel's x86 processors. Now let's look at the external factors that could impact Zen's launch in positive and negative ways.