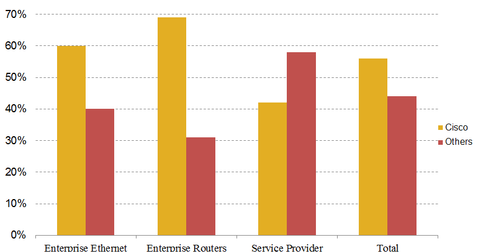 Cisco Continues to Lead in the Switching and Router Market
By Adam Rogers

Updated
Cisco's share in switching and router market was 56% in 4Q15
According to Synergy Research Group, Cisco's (CSCO) share in the overall switching and router market was 56% in 4Q15. Shares in individual segments fluctuated from 69% for enterprise routers to 42% for service provider routers. For 2015, Cisco's market share was also 56%, similar to 2014.
Other top players in this space include Juniper Networks (JNPR), Hewlett-Packard (HPE), China's (FXI) Huawei, and Alcatel-Lucent (ALU).
Article continues below advertisement
Enterprise Ethernet switching accounts for 60% of the total market
Even though Cisco's sales in the switching space fell 4% year-over-year (or YoY) in 4Q15, its market share remained intact. JNPR, HPE, ALU and Huawei have an average switching and router market share of 6%–8% as of 4Q15. The enterprise Ethernet switching segment is the largest of the three segments, followed by service provider routers and enterprise routers.
"Despite challenges on a variety of fronts, Cisco is successfully maintaining its position as the dominant supplier of switching and router technology with revenues about seven times the size of its nearest rival," said Jeremy Duke, Synergy Research Group's founder.
In 4Q15, North America continued to be the biggest market for the switching and router segment, at 40% of total revenues, followed by EMEA (Europe, the Middle East, and Africa), APAC (Asia-Pacific), and Latin America.