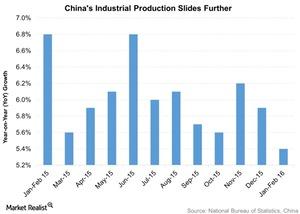 China's Industrial Production Slid in January and February 2016
By Lynn Noah

Mar. 18 2016, Published 6:00 p.m. ET
Industrial production lowest since November 2008
According to the National Bureau of Statistics (or NBS), China's industrial production of enterprises above a designated size grew at 5.4% year-over-year (or YoY) in the first two months of 2016. This was the slowest growth recorded since November 2008. Since 2011, the term "enterprises above a designated size" refers to all industrial enterprises with revenues over 20 million yuan from their principal business.
Article continues below advertisement
The growth was lower by 0.5% than that in December 2015. The weak industrial production data is due to China's efforts in changing its economic focus from investment and export-led growth to consumer spending. In February 2016, the total value added by the industrial enterprises above a designated size rose by 0.4% month-over-month.
The NBS officials noted that the slowdown in industrial output was due to seasonal factors such as weak global demand and sluggish demand for steel, chemicals, and tobacco. This led factories to cut production of those products.
In 2015, the total value added by the industrial enterprises above a designated size was up by 6.1% YoY, lower than the 8.3% growth in 2014.
China's Central Bank feels "no further stimulus needed"
Despite the slowing Chinese economy, the People's Bank of China governor, Zhou Xiaochuan, was of the opinion that the existing monetary policy is prudent with a slight easing bias. He added that the government would be able to meet its target of at least 6.5% growth over the next five years.
He further noted, "Excessive monetary policy stimulus isn't necessary to achieve the target. If there isn't any big economic or financial turmoil, we'll keep the prudent monetary policy."
Article continues below advertisement
Why industrial production data is important
Industrial production is considered as a leading indicator of the economy. The factory output is an important driver for an economy, and it also quickly reacts to changes in the business cycles. Thus, it becomes an important factor in estimating short-term trends and making changes to business policies.
With the current manufacturing slump in China's industrial production, China's GDP grew by 6.9% in 2015, lower than the target aim of 7%. Further, China is aiming at a growth rate of 6.5% for the next five years. With the sharp fall in commodity prices, particularly oil and metals, coupled with weakness in global demand and overcapacity in factories, achieving this target aim seems difficult.
Impact on mutual funds
Among China-focused mutual funds, the Oberweis China Opportunities Fund (OBCHX), the Matthews China Fund – Investor Class (MCHFX), and the Guinness Atkinson China and Hong Kong Fund (ICHKX) have more than 10.0% exposure each to the industrials sector as of December 2015. A slowdown in industrial production would directly impact the performance of the funds.
The above mutual funds are invested in companies such as Taiwan Semiconductor Manufacturing (TSM), Sinopec Corporation (SNP), Tencent Holdings (TCEHY), and Netease (NTES).
In the next article, we will look at China's fixed asset investment data.