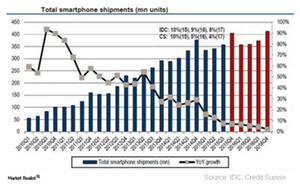 The Challenges That Pushed Down Qualcomm Stock
By Puja Tayal

Updated
Qualcomm's challenges at a glance
In the previous part of this series, we saw that Qualcomm (QCOM) made some key announcements that set the company's stock on a downward growth trajectory. Before we look at the opportunities that subsequently increased investor confidence, let's look at the challenges that surround Qualcomm.
The company has been hit by weak macroeconomic conditions, regulatory concerns, technological and customer challenges, and a slowdown in the smartphone and semiconductor industry. It's withstanding all these headwinds and rolling up its sleeves to recover the losses and push growth.
Article continues below advertisement
Macroeconomic challenges
The strengthening of the dollar increased the price of Qualcomm chips. Moreover, a weak macroeconomic environment, especially in China, its key market, reduced customers' buying power.
Regulatory challenges
Qualcomm is facing probes from South Korea (EWY), the United States, and Europe. It closed its regulatory issues with China in February 2015, agreeing to charge lower fees for handsets sold there. However, it faced delays in signing a new licensing agreement under the revised guidelines.
Qualcomm's existing licensing customers underreported sales in order to avoid paying royalty fees. The company charges royalty fees on the wholesale price of the number of handsets sold.
Article continues below advertisement
Industry challenges
The overall smartphone industry has witnessed a slowdown. Sales of high-end smartphones have fallen, while sales of mid- and low-end smartphones, which generate lower margins, rose. This trend impacted key handset makers Apple (AAPL) and Samsung (SSNLF), which reported slowing sales in the last quarter of 2015. IDC (International Data Corporation) expects smartphone shipments to grow less than 8% in 2016 after growing 10% in 2015.
Customer challenges
Qualcomm lost Samsung, its key customer, when Samsung moved to in-house SOC (system-on-chip). There are rumors in the market that Qualcomm might lose some of its business from Apple, as Apple is looking to source LTE (Long-Term Evolution) modems for some of its upcoming iPhones from Intel (INTC).
Technology challenges
In the midst of all this, Qualcomm's first 64-bit chip Snapdragon 810 didn't deliver desired results, as it had power and heating issues. These shortcomings were identified in testing, but the company didn't work on it in a rush to bring the chip to market to compete with Apple's 64-bit chips used in the iPhone 5S.
Qualcomm claims to have resolved the problems with Snapdragon 810 in its recently launched 820 chip.
In the next part of this series, we'll see if the new chipset is able to bring back lost customers and win new ones.