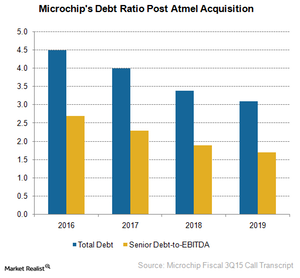 How Will the Atmel Acquisition Impact Microchip's Balance Sheet?
Microchip grows through acquisitions
In the preceding part of the series, we discussed how the merger with Micrel increased the Analog segment's contribution to Microchip Technology (MCHP) revenue to a record high in fiscal 3Q16. Till now, Microchip has been acquiring small companies and integrating them successfully into its business. But recently, it announced a major merger with Atmel (ATML), which is 47% the size of Microchip. The merger price raised eyebrows of many analysts and investors, who believed that the price was too high.
Let's look at the pros and cons of this transaction.
Article continues below advertisement
On January 19, 2016, Microchip signed an agreement to acquire Atmel for a consideration of $3.6 billion, or $8.15 per share. This amount would be paid as $7.00 in cash and $1.15 in equity. Microchip will fund the acquisition using a combination of cash and debt. But how will this transaction impact Microchip's balance sheet?
Cash position
In fiscal 3Q16, the company generated $172 million in cash from operating activities and spent around $17.9 million in capital expenditure. As of December 31, 2015, the company's cash reserves and long-term debt stood at $1 billion each, indicating that the company has the right amount of cash to repay its long-term debt.
Article continues below advertisement
Microchip's debt position after the Atmel acquisition
Atmel's net cash and investment reserves as of December 31, 2015, stood at approximately $155 million. Investors were concerned that the Atmel acquisition would increase the company's senior debt-to-EBITDA (earnings before interest, depreciation, and amortization) ratio to 2.7 and total leverage to 4.5. Such a high debt level would hamper the company's dividends.
In the fiscal 3Q16 earnings call, Microchip CEO Steve Sanghi reassured investors with some statistics. He stated that the above figures are before accounting for synergies. As seen from the above graph, the company plans to lower its debt level from 4.5 to 3.1 in the first three years after the completion of the acquisition in the June 2016 quarter.
Like Microchip, NXP Semiconductors (NXPI) and Intel (INTC) also funded their acquisition of Freescale and Altera by taking debt.
Atmel accretive to Microchip's EPS
Microchip expects to realize synergies of $170 million in fiscal 2019 in the form of reduced operating expenses, improved gross margin, and higher revenue. An accretive impact of this would be visible in Microchip's non-GAAP EPS (earnings per share) immediately after the transaction closes. According to Microchip, $0.33 EPS accretion would be realized in fiscal 2017, $0.67 in fiscal 2018, and $0.90 in fiscal 2019.
Article continues below advertisement
Returns to shareholders
Microchip would issue 13 million shares to fund the equity part of the acquisition. If the equity portion exceeds 13 million shares, the balance would be paid in cash to the value of $8.15 per Atmel share. The company has also increased its share repurchase program to 15 million shares in order to buy back the exact number of shares it issues for the Atmel acquisition, thus protecting shareholders' interests.
The company announced a cash dividend of $0.36 per share, due for payment on March 7, 2016. This equates to an annual dividend of $1.44 and an annualized dividend yield of about 3.4%. The iShares Russell Mid-Cap ETF (IWR) invests in mid-cap stocks across various sectors, including technology. It has 0.16% holding in MCHP and 0.06% in ATML.
Now let's look at the company's guidance for fiscal 4Q16 and beyond.