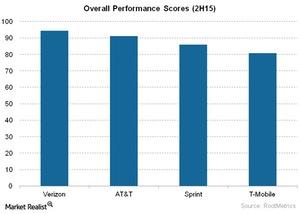 How Verizon's Network Performance Stood up to Peers
Verizon's network performance
So far in this series, we've talked about the network performance measures of the top four US wireless players according to RootMetrics 2H15 national results. Based on these findings, Verizon Communications (VZ) continued to be the best in terms of overall network performance in 2H15.
Notably, Verizon got the top spot in all of RootMetrics' performance categories in 2H15, although it shared first place in the text performance category with AT&T. (Earlier in 1H15, AT&T had the first spot and Verizon the second in the text performance category.)
In overall network performance, AT&T continued to have the second place among these players in 2H15. Meanwhile, Sprint (S) and T-Mobile US (TMUS) retained their 1H15 third and fourth places, respectively, in the overall network performance category in 2H15.
Article continues below advertisement
Postpaid customer attrition of US wireless carriers
During 4Q15, Verizon had the best postpaid customer retention among the top four US wireless carriers. Its postpaid churn declined from ~1.1% in 4Q14 to ~0.96% in 4Q15. Meanwhile, AT&T's postpaid churn (in domestic operations) decreased YoY to ~1.2% during 4Q15. Sprint platform's postpaid churn metric was ~1.6% in fiscal 3Q15 (calendar 4Q15) compared to ~2.3% in fiscal 3Q14 (calendar 4Q14). During 4Q15, T-Mobile had a postpaid phone churn of ~1.5%. Earlier in 4Q14, the same metric for T-Mobile was at ~1.7%.
For diversified exposure to telecom companies in the US, you might consider investing in the SPDR S&P 500 ETF (SPY), which held a total of ~2.4% in US telecom players at the end of December 2015.
In the next part, we'll look at a page that Sprint plans to take out of Verizon's playbook.