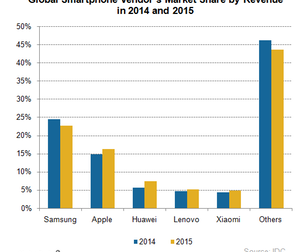 Top Five Chinese Companies to use Qualcomm's 3G/4G Technologies
By Puja Tayal

Updated
Qualcomm: now partnering with five top Chinese handset makers
So far in this series, we've talked about how Marvell Technology (MRVL) settled a long-standing patent infringement case, and NVIDIA (NVDA) won one of the two patent lawsuits with Samsung (SSNLF). Beyond these patent lawsuits, Qualcomm (QCOM) grabbed another major patent licensing agreement with China's (MCHI) Lenovo. With this agreement, Qualcomm has now secured licensing deals with China's five largest smartphone makers, including Xiaomi, Huawei, TCL Communication, ZTE, and Lenovo.
Qualcomm President Derek Aberle stated that the company is eyeing two or three more reasonably sized Chinese handset makers for licensing agreements.
Article continues below advertisement
Details of the Lenovo deal
Continuing on its long-standing partnership, Qualcomm and Lenovo revised the patent licensing deal as per the terms agreed by the former in the antitrust claim settlement with China's NDRC (or National Development and Reform Commission).
Under the deal, Qualcomm will grant Lenovo a patent license for 3G/4G technologies installed into complete devices under the brand name Lenovo and Motorola, which Lenovo acquired from Google (GOOG) in 2014. The deal covers 3G, or third generation, technologies such as WCDMA (wideband code division multiple access) and CDMA 2000, and 4G, or fourth generation, technologies such as TD-SCDMA (time division synchronous code division multiple access), LTE-TDD (long-term evolution time-division duplex), and GSM (global system for mobile communications).
Changing market dynamics
Qualcomm has 3G/4G patent licensing agreements with over 80 Chinese handset makers. Although the number seems large, the market is concentrated with a few large companies holding a majority of the market share, as seen from the above graph. Hence, getting licensing deals from the top five Chinese handset makers was important for Qualcomm.
Moreover, in the slowing smartphone market, analysts forecast that less expensive smartphones from Chinese companies will make their way into the price-sensitive markets of Europe (EFA), South Korea, and the US. As seen from the above graph, Chinese brands have already started eating up Samsung's market share, which fell from 24.4% in 2014 to 22.7% in 2015. Apple's (AAPL) market share increased from 14.8% to 16.2% during the same period, growing at a rate of 20.2%. However, Chinese companies expanded their market share faster than Apple.
Xiaomi's has started selling its phones in the US, India, Hong Kong, Singapore, and Brazil. The demand is so high in the US that its stock is sold out.
Now let's look at the impact of these licensing deals on Qualcomm's earnings.