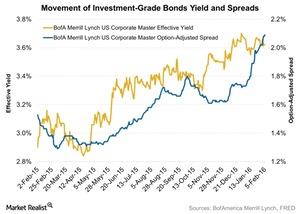 What Happened to Investment-Grade Corporate Bond Spreads in the Week Ending February 5
By Lynn Noah

Updated
What are investment-grade bonds?
Investment-grade corporate bonds are debt instruments rated BBB- and above by Standard & Poor's, although other rating agencies have their own scale of rating a corporate bond as investment-grade. Treasuries are also considered investment-grade.
Mutual funds like the Vanguard Total Bond Market Index Fund Investor Class (VBMFX) help you to invest in these instruments. Specifically, VBMFX invests in the investment-grade corporate bonds of companies like Apple (AAPL), Verizon Communications (VZ), Goldman Sachs Group (GS), Cisco Systems (CSCO), and Home Depot (HD).
Article continues below advertisement
Yield movement
According to the BofA Merrill Lynch US Corporate Master Effective Yield, yields ranged between ~2.8%–3.7% in 2015. Yields saw many ups and downs due to the Greek economic crisis, uncertain global growth and slowdowns, rising uncertainty in China, and the interest rate hike by the US Federal Reserve.
In January 2016, yields averaged ~3.6%, and these rose mostly due to oil price volatility and China's economic slowdown. Investment-grade bond yields were nearly flat last week after ending at ~3.6% on February 5, only one basis point higher than the previous week.
Meaning and importance of spreads
The BofA Merrill Lynch OAS (option-adjusted spread) measures the average difference in yields between investment-grade bonds and Treasuries. Securities selected for calculating this spread are ones that are rated BBB- or higher on the rating scale of S&P.
If spreads are rising or widening, credit conditions can be assumed to be worsening. Spreads also widen when growth is slow and economic conditions are worsening. Conversely, falling or tightening spreads coincide with faster growth and with better economic conditions.
How have spreads moved?
In 2015, corporate bond spreads ranged between ~1.3%–1.8%. In January 2016, the OAS averaged ~1.9%. Last week, spreads jumped and touched a new high of ~2.1%, which was its highest level since July 13, 2012, as global growth concerns have sparked panic selling across global markets.
More specifically, the widening of spreads means that investors are demanding higher yields because the risks on those bonds have increased. But this raises doubts about the health of the economy and increases the cost of the company to raise debt from the market, which impacts the supply of credit and economic growth overall. That said, the 2.1% OAS spread on February 5 was seven basis points higher than the previous week, and spreads are up by 65 basis points on a year-to-date basis.
In the next part, we'll look at the latest deals and volumes of investment-grade corporate bonds.