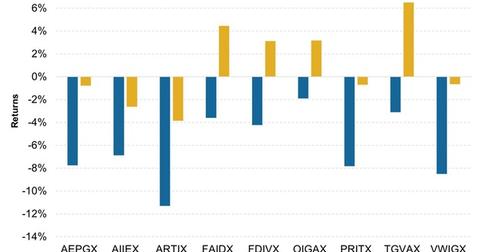 International Mutual Funds: Could They Be Suitable for You?
By David Ashworth

Updated
International mutual funds
In this series, we've reviewed nine international mutual funds, all focused on varied geographies, investment themes, and styles. Some of them are completely focused on investments outside the United States, while others are invested in US stocks.
Europe is the preferred region of investment across funds, followed by Japan. Financials is the sector most invested in, with both Fidelity funds (FAIDX) (FDIVX) emerging as major investors in the sector, percentagewise. There are a couple of funds (AIIEX) (OIGAX) that invest mostly in the consumer discretionary sector, while one (ARTIX) is more defensively positioned, with its largest exposure being to healthcare stocks.
Article continues below advertisement
These funds do share one thing in common, though. Consumer discretionary stocks are among the top three areas of investment for every fund. Information technology stocks figure among the top three sectors for three funds (AEPGX) (AIIEX) (OIGAX), while industrials place among the top three for three funds as well (OIGAX) (PRITX) (TGVAX).
Diverging performance
The graph above gives you a snapshot of a performance comparison of the funds we've reviewed in this series. It also shows you the power of astute active management and a bit of luck. A general trend can be seen in the graph. All funds that gained in 2015 were among those with the smallest decline in the one year up to January 2016. However, this is not to say that they were impacted less than other funds. Some were actually hurt worse than those that saw a major decline.
Should you invest?
If you do not wish to review the states of various countries and then come up with an asset allocation plan, international mutual funds are for you. Investors who want to invest in the most dependable stocks from around the world (RHHBY) (SNE) (BIDU), according to fund managers' views, should also invest in these funds.
However, if you already have a sizable exposure to European equities and still want to diversify, these funds may not serve your purpose given their high exposure to European equities, which will just duplicate your European exposure. Also, if you already have identified regions that you believe are going to outperform others, then these funds should not figure into your investment list.
For those investors who want to invest in international mutual funds, we've quantitatively analyzed the composition and performance of nine of the biggest funds by asset size in order to help you make a better-informed decision and get you closer to your instrument of choice.
Similarly, we've analyzed Asia-Pacific mutual funds for those investors who already have a sizable exposure to US and European equities. We'll keep you updated with more analysis on our Mutual Funds page.