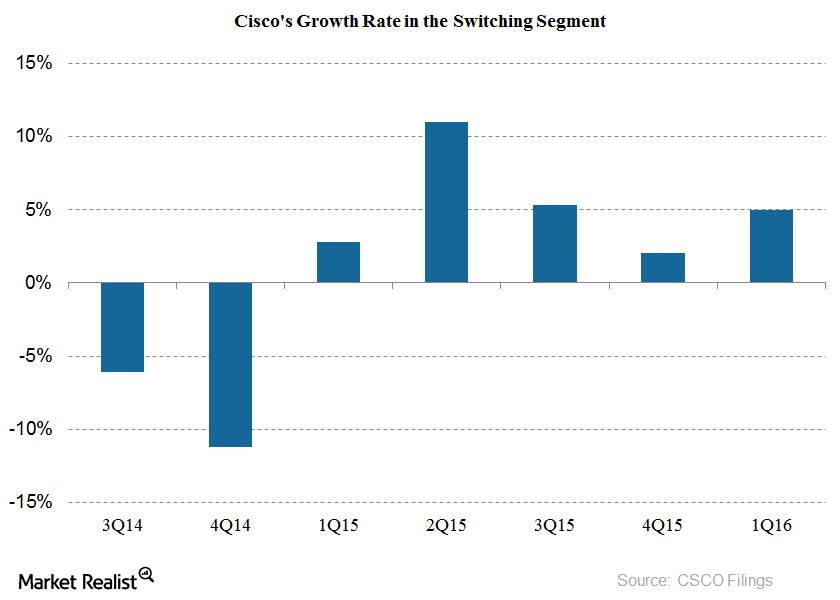 What Trends Are Impacting Cisco Systems?
By Adam Rogers

Jan. 7 2016, Updated 3:00 p.m. ET
Increase in mobile data traffic
According to data compiled by Cisco Systems (CSCO) in 2013, mobile data traffic increased 70% in 2012 and doubled between 2009 and 2012. Mobile data traffic is set to further increase by an astounding 13 times between 2012 and 2017. A majority of the demand, or 65%, is expected to be fueled by video and online streaming.
An increase in the penetration of mobile devices such as smartphones and tablets will drive demand for mobile data. Telecom (telecommunication) companies may look to upgrade networks to support and monetize growth in traffic.
Escalating mobile data traffic will also positively impact router and switch sales. As you can see in the graph below, the growth rate in the switch segment rose from 2.8% in fiscal 1Q15 to 11% in 2Q15. Then it fell to 5.3% in 3Q15. It was 2.5% in 4Q15 and 5% in 1Q16.
Article continues below advertisement
Competition in core router segment
The core router segment was historically controlled by Cisco Systems and Juniper Networks (JNPR). The companies had a combined market share in excess of 80%. The scenario has now changed with the re-entry of Alcatel-Lucent (ALU) in this segment since 2012.
Market share of Alcatel-Lucent in edge routing has currently grown to 24%. The company edged out Juniper Networks to become the number-two vendor in this segment in 2010, despite entering the market in 2003. Alcatel-Lucent can now use this platform as leverage to increase market share in the core router segment as well.
Bring-your-own-device movement
The BYOD (bring-your-own-device) movement has caused companies to increase information technology budgets in order to enhance network security. Employees bringing their own mobile devices such as smartphones and tablets to work has seen a significant uptrend.
As a result, companies need to increase network security to help manage and support devices and reduce the threat of cyberattacks. This presents Cisco Systems with an opportunity to not only increase revenues in the network security segment but also improve demand for routing and switching solutions.
Cisco constitutes 3.7% of the PureFunds ISE Cyber Security ETF (HACK) and 8.7% of the iShares North American Tech-Multimedia Networking ETF (IGN).