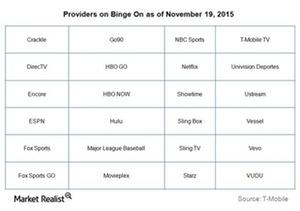 Why Did T-Mobile Launch Binge On?
By Shirley Pelts

Jan. 12 2016, Updated 3:43 p.m. ET
T-Mobile's Binge On
On January 6, 2016, the Wall Street Journal reported that T-Mobile (TMUS) management was "baffled" by the objections of Alphabet's (GOOG) YouTube to T-Mobile's free video streaming service, Binge On. T-Mobile talked about its Binge On service at the Citi Global Internet, Media & Telecommunications Conference on January 6, 2016.
Late in 2015, T-Mobile announced Binge On, a service that would allow its subscribers free mobile video streaming to 24 streaming services, including Hulu, Netflix (NFLX), Time Warner's (TWX) HBO Now, and DISH Network's (DISH) Sling TV. Currently, YouTube, Facebook (FB), and Snapchat aren't included in this service. Binge On streams videos at a lower video quality.
Mobile video usage is increasing, according to T-Mobile. The company claims that its customers are using 2.5 times their wireless data to stream videos. T-Mobile has also cited forecasts that mobile video usage is increasing and expected to grow 400% by 2020.
Article continues below advertisement
Binge On's strategy
As the popularity of mobile video streaming continues to increase, wireless carriers such as AT&T (T) and Verizon Communications (VZ) have started charging their customers for exceeding their data usage limits. According to T-Mobile, the two wireless carriers were expected to record $2.4 billion by the end of 2015 from penalties imposed on customers for exceeding data usage limits.
With Binge On, T-Mobile hopes to add more subscribers to its fold. In the next part of this series, we'll see why T-Mobile is "baffled" by YouTube's objection to Binge On.
T-Mobile makes up 0.4% of the iShares S&P US Preferred Stock Index Fund (PFF). For an investor interested in getting exposure to the Communications Services sector, PFF holds 0.75% of the sector.