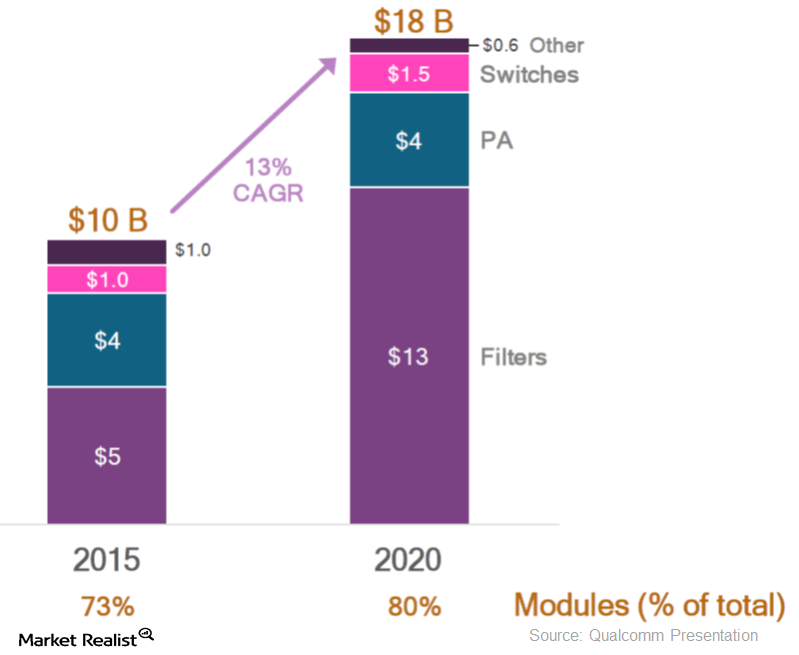 RFFE Space Provides Huge Opportunity for Qualcomm
By Adam Rogers

Jan. 14 2016, Published 2:09 p.m. ET
RFFE sector valued at $18 billion
The RFFE (radio frequency front-end) space is projected to be an $18 billion market by 2020, according to Qualcomm and as you can see in the graph below. The filter assets in RF360 Holdings, the new joint venture, will be among the top three in the industry. Japan's (EWJ) TDK ships more than 25 million filter functions each day.
In order to meet the growing demand in this business segment, RF360 Holdings will invest in capacity increases. Qualcomm's (QCOM) January 13, 2016, press release said, "The business that will be transferred constitutes a part of the total TDK SAW Business Group activities and the current run rate is approaching $1 billion US dollars of sales per annum and approximately 4200 employees are involved in that business."
Article continues below advertisement
Details of the JV transaction
RF 360 Holdings, the name of the joint venture (or JV), will be a Singapore corporation with manufacturing and R&D (research and development), with sales offices in the United States, Europe (EFA), and Asia. Its headquarters will be located in Munich, Germany (EWG).
Qualcomm Global Trading (or QGT) will own 51% of  RF360 Holdings. TDK's subsidiary, Epcos AG, will own 49% of the JV. According to the agreement, "filter and module design and manufacturing assets, plus related patents, will be carved out from TDK and its subsidiaries and be largely acquired by RF360 Holdings, with certain assets being acquired directly by Qualcomm affiliates."
QGT has an option to acquire, whereas Epcos has an option to sell its remaining interest in the JV 30 months after the closing date. Qualcomm stated that the transaction value is expected to be approximately $3 billion. This takes into account the payments at closing as well as future payments that will be made to TDF on the basis of sales by the joint venture and Qualcomm and TDK's collaboration. The amount includes the cost of QGT possibly acquiring Epcos's interest in the JV.
Qualcomm's press release stated, "Giving effect to the payments to be made at the closing, additional future payments to TDK based on sales by the joint venture of RF filter functions, as well as Qualcomm and TDK's joint collaboration efforts, and assuming QGT's exercise of its option to acquire EPCOS' interest in the joint venture, the aggregate transaction value is expected to be approximately $3 billion US dollars. Qualcomm expects the transaction to be accretive to Non-GAAP earnings per share in the 12 months following the transaction close."
In the next part of this series, we'll see how the deal caused a sell-off on January 13, 2016, for Skyworks Solutions (SWKS), Avago Technologies (AVGO), and Qorvo (QRVO).