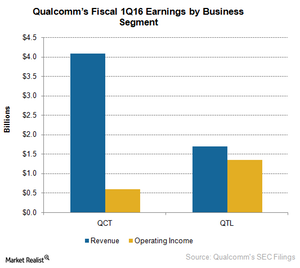 Qualcomm's Licensing and Equipment Segment Post Weaker Revenues
By Puja Tayal

Jan. 29 2016, Updated 10:21 a.m. ET
Revenue by segment
In the previous part of the series, we saw that Qualcomm's (QCOM) revenue fell 19% YoY (year-over-year) due to softness in high-end smartphone demand. Qualcomm's customer base is concentrated among a few handset manufacturers. So any change in orders from a single customer directly impacts the company's earnings. Samsung (SSNLF) and Apple (AAPL) shifted to in-house chipsets, which affected Qualcomm's revenue.
Qualcomm earns revenue from the following two segments:
QCT (Qualcomm CDMA Technologies) earns revenue by selling mobile chips.
QTL (Qualcomm Technology Licensing) earns royalty payments by licensing its IP (intellectual property) to handset makers.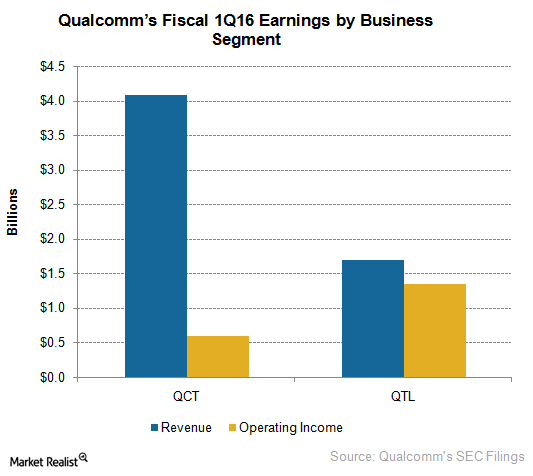 Article continues below advertisement
QCT
QCT accounts for 71% of the overall revenue but earns only 31% of operating income. In fiscal 1Q16, revenue from QCT fell 21.6% YoY to $4.1 billion. Operating income fell 47% YoY to $590 million.
The revenue fell since Apple scaled back production of iPhones until the March 2016 quarter. For the December 2015 quarter, the handset maker reported the slowest sales growth of less than 1% YoY since the launch of the iPhone in 2007.
Apple expects to post its first revenue decline in 13 years in the March 2016 quarter due to softness in China's (MCHI) market. Qualcomm president Derek Aberle stated that while demand in high-end smartphones remains low, the overall Chinese smartphone market remains strong, with high demand for mid- and low-end phones.
Qualcomm's Snapdragon 810 didn't perform well due to performance and overheating issues. The company has therefore switched its foundry partner from Taiwan Semiconductor Manufacturing Company (TSM) to Samsung to manufacture Snapdragon 820.
Article continues below advertisement
QTL
QTL accounts for 29% of the overall revenue but earns 69% of operating income. In fiscal 1Q16, revenue from QTL fell 10.4% YoY to $1.7 billion. Operating income fell 15.2% YoY to $1.3 billion. The revenue excludes the $100 million licensing fee received from LG Electronics, as the fee is under a legal battle.
Many Chinese handset makers have been reporting lower device sales, which has affected Qualcomm's royalty revenues. However, the company's reported device sales grew better than expected to $60.6 billion in fiscal 1Q16. This would result in recovering lost revenue from licensing.
During fiscal 1Q16, Qualcomm signed licensing agreements with top Chinese handset makers Xiaomi, Huawei, ZTE, and Haier. However, under the revised deal agreed to in the antitrust settlement in February 2015, the company will charge a 5% royalty on 65% of the selling price instead of the whole price for handsets sold in China.
In the next part of the series, we'll look at the company's guidance for fiscal 2Q16.