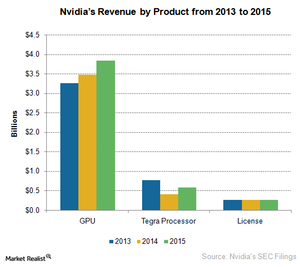 Nvidia's Journey from a Startup to a Market Leader
By Puja Tayal

Jan. 11 2016, Updated 1:39 p.m. ET
Overview of Nvidia
Founded in 1993, Nvidia (NVDA) is a leader in visual computing technologies. The company invented graphic processing units (or GPUs), which now sit in the systems of all electronic devices requiring visual processing such as mobiles, tablets, personal computers (or PCs), workstations, and game consoles.
This series will give you a detailed analysis of Nvidia, its business structure, its products, its key growth drivers, and its future opportunities.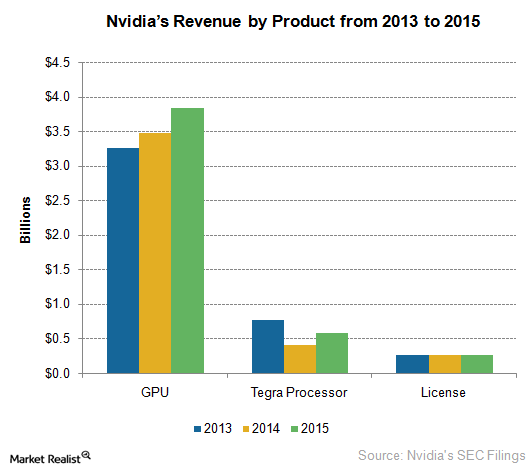 Article continues below advertisement
History of Nvidia
Nvidia started its journey with a motive to build a microprocessor that supports full-motion video and stereo sound in PCs. The company launched its first multimedia accelerator, the NV1, in May 1995 with the help of wafer fabricator SGS-Thomson. The product caught the attention of video game manufacturer Sega of America, and Nvidia gained venture capital funding.
From a revenue of $158.2 million in 1999, when it went public, to a revenue of $4.7 billion in 2014, Nvidia is one of the fastest-growing companies in the semiconductor industry. The company's growth accelerated from 2000 onward as it acquired several small companies such as 3dfx, MediaQ, and Ageia and introduced several products such as CUDA architecture, the Tesla GPU, and the Tegra mobile processor.
Business strategy
Nvidia has adopted a fabless business model, which means it concentrates on product designing and marketing. The company has partnered with TSMC (TSM) and Samsung (SSNLF) to manufacture chips. The company's research and development efforts are focused in five areas:
It expands its products to enhance user experience.
It expands its products in the mobile and cloud computing platform to enable users to access games, movies, and software on any device, anywhere.
It develops an architecture to leverage GPUs' parallel processing capabilities.
It protects intellectual property and licenses it to others. It entered into a six-year cross-licensing agreement with Intel (INTC) in 2011, which generates $1.5 billion annually in licensing revenue.
It creates visual computing platforms in the gaming, enterprise, high-performance computing and cloud, and automotive sectors.
In the next part of the series, we'll look at the company's product portfolio and customer base. The iShares Russell 1000 Value ETF (IWD) has 3.4% exposure in the software industry. It has a 0.18% holding in Nvidia.