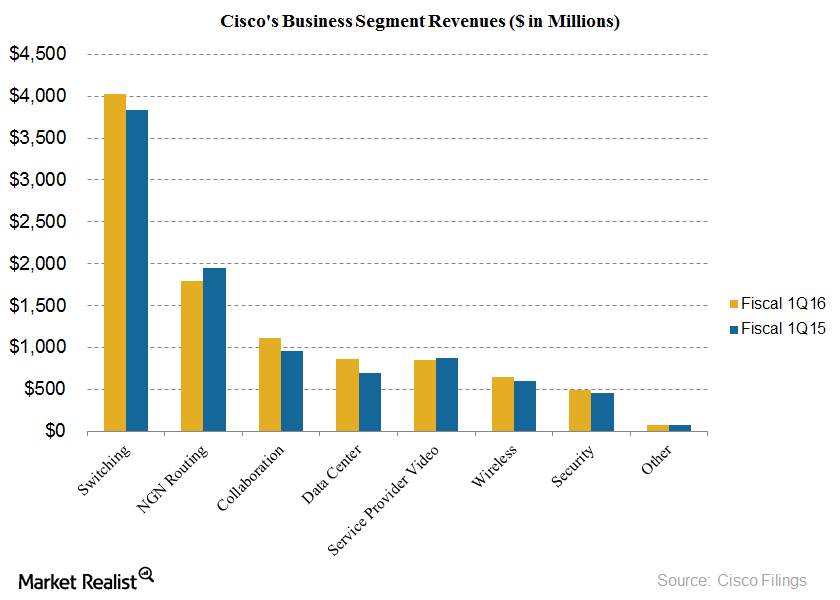 Falling Router Sales: The Impact on Cisco's Business Segments
By Adam Rogers

Jan. 21 2016, Updated 12:50 p.m. ET
Router sales fell 8% in fiscal 1Q16
As we discussed in the previous part of this series, analysts expect Cisco's (CSCO) revenues to fall 1.4% year-over-year) in fiscal 2Q16, 0.6% in fiscal 3Q16, and 0.2% in fiscal 2016. Analysts also expect sales in fiscal 2017 to rise 3.7%. Cisco's two main business segments are the Switches and Routers segments, which constitute almost 50% of total revenues.
In fiscal 1Q16, switch sales rose 5% year-over-year to $4 billion. However, router sales fell 8% to $1.8 billion, driven by weak demand from carriers. In China (FXI) and India (EPI), Cisco's sales in the switching segment rose more than 40%. The company's sales in the router space have fallen, driven by a consumer shift towards cloud solutions. In the long run, routing sales are expected to rise as Cisco increases its focus on security.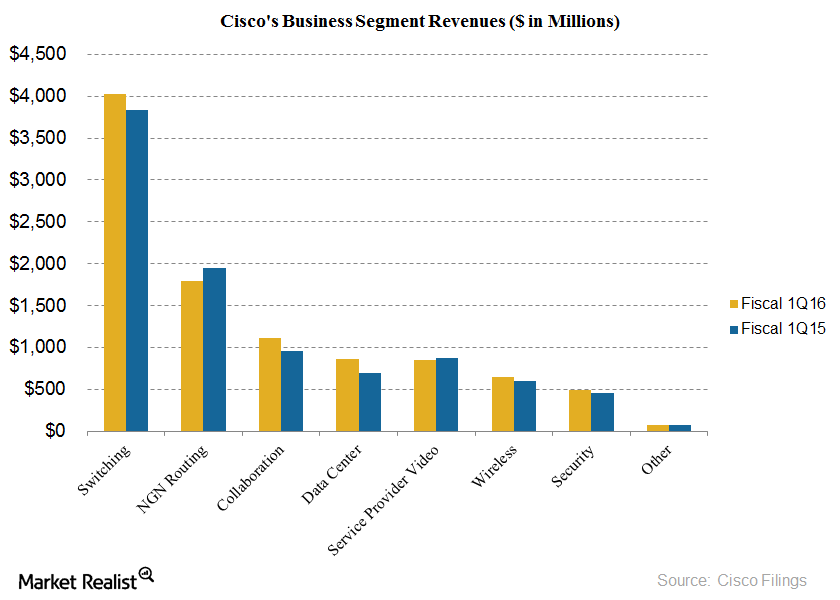 While Cisco's router and switch businesses are the largest in the world, the company faces competition from rival Juniper Networks (JNPR). According to Synergy Research Group, Juniper's revenues grew 28% year-over-year in 3Q15 and 24% in 3Q14 in the routing segment.
According to IDC, Cisco's market share fell from 53% to 49% in the router market at the end of 3Q15. Cisco has a 61.6% market share in the ethernet switching segment. Juniper and Hewlett-Packard (HPE) have market shares of 6.5% and 9%, respectively, in this segment as of 3Q15.
Article continues below advertisement
Cisco's other business segments
Analysts will be looking at the growth rates of Cisco's other business segments in fiscal 2Q16. Cisco's Collaboration business segment grew 17% year-over-year to $1.11 billion. Its Data Center business segment grew 24% to $859 million. Cisco's Service Provider revenues fell 2% to $850 million. The revenues for its Wireless and Security spaces grew 7% to $645 million and $485 million, respectively.