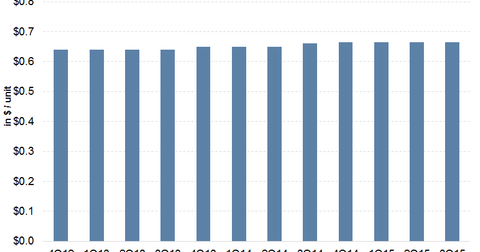 Agreement with ArcLight is a Win-Win for NGL Energy Partners
By Kurt Gallon

Jan. 12 2016, Published 8:53 a.m. ET
Reduced capital burden
In the first part of this series, we saw that NGL Energy Partners has agreed to sell TransMontaigne GP to ArcLight Capital Partners for $350 million. Let's take a look now at how that transaction should be a win-win situation for NGL Energy Partners (NGL).
The transaction could help NGL Energy Partners in the following ways:
reduce its capital burden in the midst of rising distribution yields
gain leverage in the midstream energy sector
fund NGL's growth capex (capital expenditure) for the next 18 months
Other midstream companies such as Kinder Morgan (KMI) and Energy Transfer Partners (ETP) announced similar measures to reduce capital burden in this challenging market environment. KMI decided to slash its dividends by 75%, while ETP went for asset dropdown.
Article continues below advertisement
Reduced leverage
NGL's leverage is expected to improve with the reduced capital burden and EBITDA (earnings before interest, taxes, depreciation, and amortization) growth. According to the press release, "NGL can reduce leverage further through the sale of its approximately 3.2 million TLP common units." NGL forms 0.63% of the First Trust North American Energy Infrastructure ETF (EMLP).
TransMontaigne Partners distributions
According to the agreement, NGL Energy Partners would continue to receive distributions from TransMontaigne Partners (TLP) through the 3.2 million common shares. At the same time, it would lose $7.6 million of distributions from IDRs (incentive distribution rights) and GP (general partner) interest in TLP. However, IDRs are of limited benefit to its holder if the MLP distributions aren't growing. TLP has been unable to grow its distributions for the last four quarters.
TLP's marketing business
According to the press release, "The TransMontaigne marketing business is a significant part of NGL's refined products business (and will remain with NGL) uninterrupted by this transaction. NGL will retain TransMontaigne Product Services LLC, its customer contracts and its line space on the Colonial and Plantation pipelines."
The transaction will also result in "an increase of an estimated $20 million annually from cost reductions and revenue enhancements." NGL expects to close this transaction by the end of January 2016.