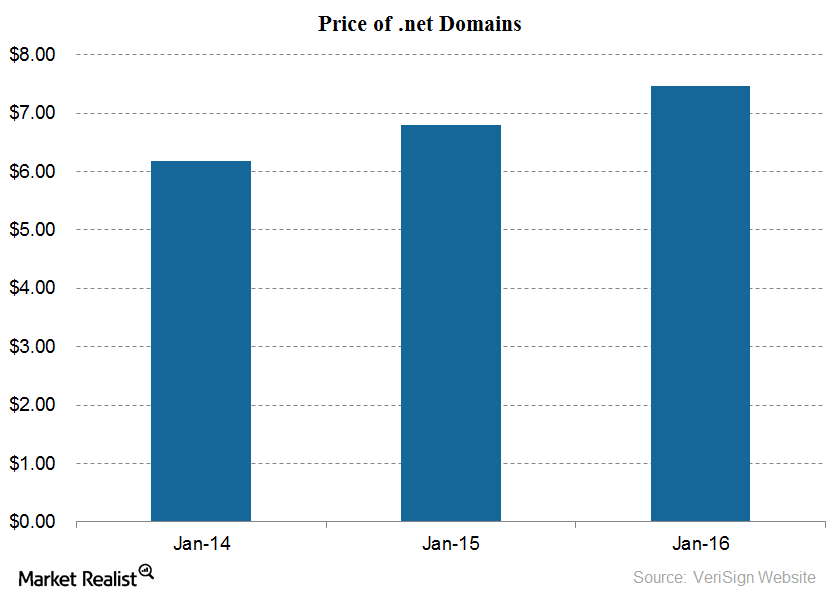 VeriSign's Market Share Declines Year-over-Year
By Adam Rogers

Dec. 21 2015, Published 3:23 p.m. ET
VeriSign's market share dropped to 46.6% in 2014
VeriSign's market share has decreased from 52.5% in 2007 to 46.6% at the end of fiscal 2014. It was driven by saturation in the .com domain segment and low acceptance of a .net domain name. In order to mitigate the flat growth seen in .net domain names, VeriSign (VRSN) is likely to hike prices of the same from February 2016.
The annual fee of a .net domain name is expected to increase from $6.79 to $7.46. However, this may lead to a further decrease in the sale of .net domain names. According to VeriSign, this price hike seems fair, as peer companies like GoDaddy (GDDY) and NeuStar (NSR) charge higher prices. Prices of .net domain names increased in February 2015 from $6.18 to $6.79.
Article continues below advertisement
According to VeriSign's agreement with ICANN (Internet Corporation for Assigned Names and Numbers), VeriSign can increase .net domain name registrations up to 10% every year until September 30, 2017. The U.S. Department of Commerce and the U.S. Department of Justice, however, have restricted the price hike for .com domain names, and it's expected to remain at $7.85 until fiscal 2018.
Renewal rate of 71.7% for VeriSign at the end of 3Q15
The renewal rate for VeriSign in 3Q15 was 71.8%, lower than 72.7% in 2Q15 and similar to 3Q14. The renewal rate fell QoQ (quarter-over-quarter), as startup conversion rates are low in emerging markets. VeriSign also expects net additions of 1.1–1.6 million in 4Q15 compared to net additions of 700,000 in 4Q14.
The First Trust Dow Jones Internet ETF (FDN) invests 2.2% of its holdings in VeriSign. The PowerShares DWA Technology Momentum ETF (PTF) invests 2.5% of its holdings in VeriSign.