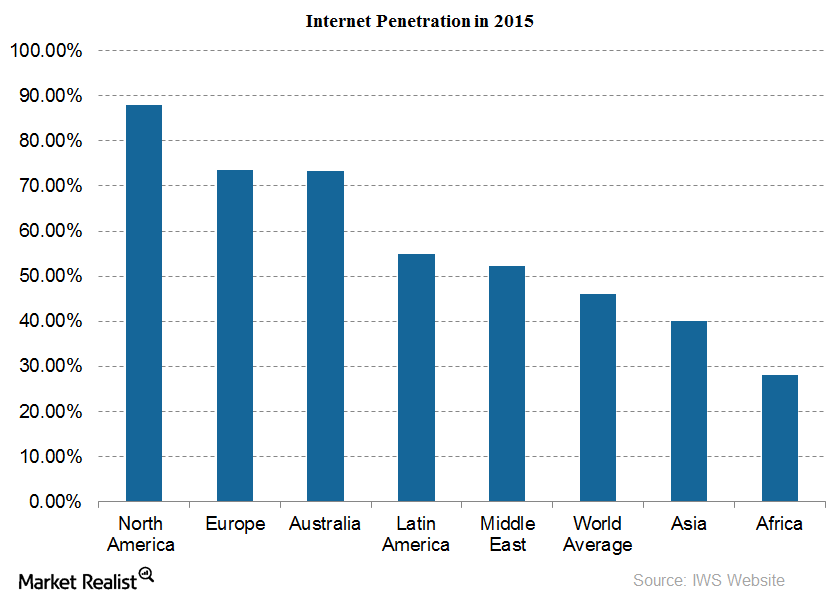 VeriSign Growth: Domain Name Registration Is a Key Factor
By Adam Rogers

Dec. 21 2015, Published 3:23 p.m. ET
Emerging markets drive VeriSign revenues
In 3Q15, VeriSign (VRSN) recorded net additions for registrations of 1.7 million with a gross figure of 9.2 million. The total .com and .net domain name registrations stand at 135.2 million driven by increased economic activity in emerging countries such as India, China, Vietnam, and Indonesia. Registrations in these countries are expected to grow at a fast pace. India, in particular, which has low Internet penetration, is expected to increase registrations in the next few years.
Article continues below advertisement
By the end of 2015, approximately 46% of the world's total population will have access to the Internet. There were approximately 360 million Internet users in 2000. That figure has risen to more than 3 billion in 2015. The Internet penetration rate in North America, Europe, and Australia are 87.9%, 73.5%, and 73.2%, respectively. The figures are much lower for Asia and Africa at 40% and 28.2%, respectively.
Rise in e-commerce will benefit VeriSign
The retail e-commerce boom worldwide will hugely benefit VeriSign. In 2014, retail e-commerce sales were reportedly more than $830 million. They're expected to increase to more than $990 billion in 2015 and more than $1.5 trillion by the end of 2018. Revenues generated from the United States account for more than 40% of total revenues.
In the last five years, e-commerce sales have grown more than 200% in the United States. An increase in e-commerce activity around the world will ensure a surge in website registrations. Existing website owners will also renew domain names on a regular basis.
Overview of VeriSign
VeriSign provides Internet infrastructure, including .com and .net domains. The company also provides protection for websites and enterprises around the world. It has a market cap of $9.6 billion.
The market cap for peer companies GoDaddy (GDDY), Akamai Technologies (AKAM), and NeuStar (NSR) are $5.3 billion, $9.3 billion, and $1.3 billion, respectively. The SPDR MFS Systematic Growth Equity ETF (SYG) invests 3.5% of its holdings in VeriSign. The PowerShares DWA Technology Momentum ETF (PTF) invests 2.5% of its holdings in VeriSign.