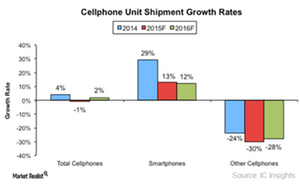 Key Trends Driving Communication Semiconductor Growth
By Puja Tayal

Jan. 2 2016, Updated 1:05 p.m. ET
Trends driving growth in communication semiconductor segment
In the previous part of the series, we discussed the challenges posed by the smartphone industry. We'll now look at the consumer and technology trends that will drive growth in the communication semiconductor segment.
The demand for low- and mid-range smartphones is increasing in emerging countries, thus posing an opportunity for volume growth. Moreover, the deployment of LTE (long-term evolution) and 5G (fifth generation) technology will pump up demand for networking and smartphone semiconductors.
Article continues below advertisement
Demand shift towards mid and low-end smartphones
After enjoying a high-growth period, smartphone sales have started to show signs of slowing growth. TrendForce forecasts total smartphone shipment growth to slow from an estimated 9.7% YoY (year-over-year) in 2015 to 7.3% YoY in 2016 as the market saturates in China and the United States.
However, demand for low- and mid-range smartphones is picking up in emerging Asia-Pacific, Eastern Europe, Middle East, and Africa regions. Samsung (SSNLF) is losing its share in the high-end smartphone market to Apple (AAPL). Moreover, mid- and low-range smartphone vendors such as ZTE, Micromax, and Xiaomi are slowly gaining market share. The combined market share of Apple and Samsung fell from 38.4% in 2Q14 to 36.5% in 2Q15, according to Gartner.
This shift in demand is calling for semiconductor manufacturers to develop a powerful, integrated application processor at a low cost. Chipmakers can leverage this opportunity by transitioning to 14/16nm (nanometer) technology, which will bring them cost benefits.
Replacement cycles driving smartphone growth
The smartphone industry's customer base is shifting from new users to existing users. According to IC Insights, existing customers are expected to account for 89% of mobile sales in 2015, 91% in 2016, and 94% in 2019.
If existing users are satisfied with their current phones, smartphone sales will fall as replacement cycles lengthen. So, both smartphone vendors and semiconductor companies have to come up with innovative products to attract the existing customer base.
Adoption of LTE and 5G
China (MCHI), the largest consumer of smartphones, plans to move toward LTE and 5G technology by 2020. This will create the need for high-performance, power-efficient semiconductor products used in smartphones and networking and transmission equipment. Qualcomm (QCOM) and Micron Technology (MU) are developing products on the 10/7nm node to support this trend.