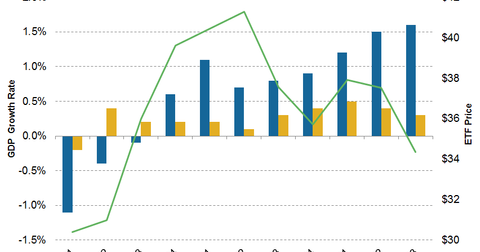 Household Consumption Expenditure to Boost the Eurozone Economy
By Lara Sheldon

Updated
Household consumption expenditure boosted economic growth
In 2015, the Eurozone (EZU) (FEZ) economy advanced at a slower rate of 0.3% in 3Q15 with an increase in household consumption expenditure. The disposable personal income (or DPI) increased 0.18% to 1,629.2 billion euros in 2Q15 from 1,626.2 billion euros in 1Q15. With a rise in DPI, consumer spending has risen in the Euro area. Companies such as Daimler AG (DDAIF), STMicroelectronics NV (STM), and Volkswagen (VLKAY) were up 0.83%, 1.2%, and 0.48%, respectively, as of December 21.
Article continues below advertisement
Manufacturing turned positive in October
In October 2015, industrial production rose 0.6% on a month-over-month basis as compared to a decrease of 0.3% in the previous month. On an annual basis, industrial output has grown 1.9% in October. An increase in production of consumer goods and capital goods helped industrial production to turn positive in October. However, intermediate goods saw a decline in October 2015.
Euro depreciation encourages export trade
The euro (EUO) has depreciated about 9.6% against the US dollar since the beginning of this year. The weakening of the euro is helping export orders. As a result, the Eurozone trade surplus widened to 24.1 billion euros in October as exports grew 1.0% while imports remained stable.
The employment growth beat expectations in the Eurozone with an increase in the order book. The jobless rate in the Eurozone also decreased slightly to 10.7% in October, the lowest figure since January of 2012. Moreover, wages in the Eurozone rose 1.4% in 3Q15.
Consumer confidence  improves in November
Eurozone (VGK) consumer sentiment has continued to stay in negative territory in November. However, with better employment numbers and trade figures, consumer confidence rose 1.6 points to move at -5.9 in November from -7.5 in the previous month. Though negative, the consumer sentiment seems to be improving with better employment growth and inflation.
Consumer prices rose 0.2% on an annual basis in November 2015, reaching its highest level since July this year. While the cost of energy (UWTI) continues to create downward pressure on inflation, an increase in the prices of vegetables helped inflation to rise.
Though inflation has increased, it is still at low levels. To boost inflation and consumer confidence in the economy, the Governing Council of the ECB (European Central Bank) decreased the interest rate on the deposit facility by 0.10% to -0.30% on December 9, 2015.
With the extended stimulus, the Eurozone may see inflation rising towards the target inflation rate of 2.0% going forward. Also, it may help to boost business confidence and enable the Eurozone economy to grow at 1.8% in 2016.
In the next article, we'll look at how major Eurozone economies are set to perform in 2016.