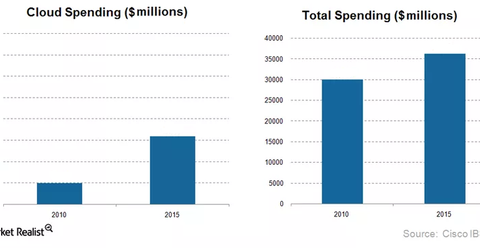 A Close Look at Intuit's Reporting Structure
By Anne Shields

Updated
Intuit's reporting structure
In the prior part of this series, we looked at Intuit's (INTU) fiscal 1Q16 performance. To have a better understanding of the company, let's now look at Intuit's reporting structure.
Intuit's business is organized around three segments: Small Business, Consumer Tax, and Professional Tax.
Its Small Business segment caters to small businesses and accounting professionals. Offerings under this segment include QuickBooks services and desktop software, payroll solutions, and payment processing services. This segment contributed 77% to overall revenues in fiscal 1Q16. It grew 5% to $546 million in 1Q16. In fiscal 2015, this segment contributed 50% to overall revenues.
The Consumer Tax segment includes TurboTax products and services for consumers. It contributed ~8% to overall revenues in fiscal 1Q16. The segment's revenues didn't register any growth and stood at $57 million in fiscal 1Q16, as the previous quarter was not a tax season. In fiscal 2015, this segment contributed 43% to overall revenues.
The Professional Tax segment caters to professional accountants in the United States and Canada. Lacerte, ProFile, ProSeries, and Intuit Tax Online professional tax products and services fall under this segment. The segment contributed 15% to overall revenues in fiscal 1Q16. It grew 203% to $110 million in fiscal 1Q16. In fiscal 2015, the segment contributed 7% to overall revenues.
Article continues below advertisement
Increased focus on small businesses bodes well for Intuit's future growth
The SMB (small to medium-sized businesses) space is attracting a lot of attention from leading technology players such as Salesforce.com (CRM), Oracle (ORCL), and SAP SE (SAP), as it's relatively untapped. According to Cisco (CSCO), cloud spending in SMB is expected to reach $16 billion in 2015, triggered by the increased usage of cloud and mobile computing. Cloud spending was $5 billion in 2010, as you can see in the above graph.
In late September 2015, technology companies such as Intuit, PayPal (PYPL), and Square are now venturing into lending funds to small businesses. Tech companies are aiming to use the small business transaction data for their platforms.
Intuit has a significant exposure to small businesses and generates a majority of its revenues from them. The company has also strategically divested some of its offerings to enable it to increase its focus on its QuickBooks services. It's focusing particularly on its cloud software QuickBooks Online, which is a significant offering of its Small Business segment. We'll look at this in a later part of this series.
You can read Why Technology Players Are Increasing Their Focus on the SMB Space to know more.
The  iShares North American Tech-Software ETF (IGV) invests 5.4% of its holdings in Intuit. Microsoft and Oracle account for 9.6% and 7.8% of IGV, respectively.