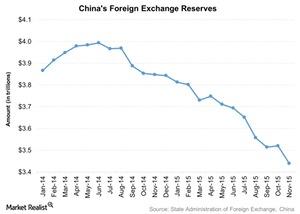 Is the Chinese Economy Really Stabilizing?
By Lynn Noah

Dec. 22 2015, Published 1:24 p.m. ET
Funds overview
In this series, we'll provide a performance analysis of Chinese mutual funds for November 2015. We'll analyze the following funds:
Article continues below advertisement
Economic indicators
The factory output grew at an annual 6.2% rate in November—compared to 5.6% in October. From January to November, China's fixed-asset investment—one of the main economic drivers—grew 10.2%. Meanwhile, retail sales growth expanded at an annual 11.2% rate in November—compared to 11.0 % in October. The CPI (consumer price index) grew in November. This shows that local consumer demand is strengthening slowly.
However, China's exports—in US dollar terms—fell by 6.8% YoY (year-on-year) in November. The imports fell by 8.7%. Meanwhile, the deflationary trend is persisting in China's manufacturing sector due to overcapacity, weak demand, and lower prices for commodities like oil and steel. As a result, manufacturers are forced to reduce the selling prices. While the service sector is picking up, manufacturing is lagging behind. You can see this in the manufacturing PMI (purchasing managers' index). It impacts Chinese companies like Taiwan Semiconductor Manufacturing (TSM), Tencent Holdings (TCEHY), China Mobile (CHL), and Baidu (BIDU).
Article continues below advertisement
Capital drain
Despite some positive economic indicators, China's currency is flowing out of the economy. With the rate hike looming in the US, Chinese investors are parking their funds more in dollar-denominated assets. China's foreign reserves fell by $87.2 billion in November to $3.4 trillion—the lowest since February 2013. Also, China has been selling dollars to support the yuan from depreciating more. China's yuan devaluation triggered capital outflows due to fears that the Chinese economy might be slowing sharper than the economic data indicated.
The Chinese economy is still fragile. It won't be surprising if Chinese authorities unveil more monetary and fiscal stimulus in the near term. After this update, we'll start to analyze the performance of the China-focused mutual funds mentioned above.
China's equity market shows signs of stabilizing
The CSRC (China Securities Regulatory Commission) resumed IPOs (initial public offering) after imposing a ban on it in July due to the stock market crash in June. This announcement shows the CSRC's confidence in domestic stock markets' stability. The CSRC also announced that it would implement a new registration-based IPO system in two years. Under the new system, the Shanghai and Shenzhen stock exchanges would approve IPO listings instead of the securities regulator.
Next, we'll start assessing China-focused mutual funds.