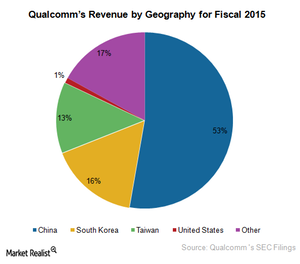 What Antitrust Probes Are in the Pipeline for Qualcomm?
By Puja Tayal

Dec. 10 2015, Updated 10:48 a.m. ET
Qualcomm's patent licensing model
Qualcomm (QCOM) has been in the news because of its patent licensing model, which generates more than half of its profits. Competition regulators from Taiwan (EWT), South Korea, the United States, Europe, and China are investigating the company's licensing model. Two regulators—China and Europe—have already accused the company of antitrust violation.
Qualcomm earns approximately 30% of its revenue by charging handset makers royalties on its cellular patents. The royalty charge is based on a percentage of the handset price. The company generally does not issue licenses for its 3G (third generation) and 4G (fourth generation) wireless technologies. Let's look at the various antitrust issues that surround this patent licensing model.
Article continues below advertisement
Taiwan
On December 8, 2015, the Taiwan Fair Trade Commission started an investigation on whether Qualcomm's licensing practices violate the country's Fair Trade Act. Any antitrust charge against Qualcomm would benefit rival MediaTek and adversely affect customer HTC Corporation.
South Korea
On November 18, 2015, the KFTC (Korea Fair Trade Commission) alleged that Qualcomm's licensing practices violated the country's anticompetition laws. In response, the company stated that its device licensing "is the worldwide industry norm" and it would fight the allegations. The company's shares fell ~9% after the news was released.
In 2009, the KFTC fined Qualcomm $208 million over other practices. The ruling is still under appeal.
Article continues below advertisement
United States
On November 5, 2014, the Federal Trade Commission launched an investigation to check whether Qualcomm's patent licensing practices violate FRAND (fair, reasonable, and nondiscriminatory) commitments. The news saw the company's shares fall 6%.
Europe
In the previous part of the series, we saw that the EC (European Commission) has accused Qualcomm of predatory pricing and exclusivity payments following a complaint by Nvidia's (NVDA) subsidiary Icera. In 2010, the regulator scrapped a two-year antitrust probe accusing Qualcomm of charging high royalties for its integral 3G technology after Ericsson (ERIC) and Texas Instruments (TXN) withdrew their complaint.
Antitrust claim settled in China
On February 10, 2015, Qualcomm paid a $975 million fine to Chinese authorities and agreed on new licensing terms under which it would charge lower royalty rates on patents for products that are used in China. The agreement ended a 14-month long antitrust probe and freed the company to collect royalties. The news resulted in the company's shares rising 2.8%.