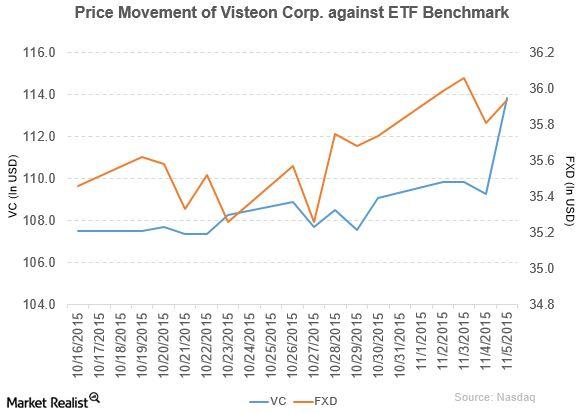 Visteon: A Closer Look at How Revenue and Income Rose in 3Q15
Visteon's price movement
Visteon (VC) has a market cap of $4.6 billion. After the 3Q15 earnings report, Visteon rose by 4.2% to close at $113.8 per share as of November 5, 2015. The price movement on a weekly, monthly, and YTD (or year-to-date) basis is 5.8%, 9.0%, and 6.5%, respectively.
Article continues below advertisement
Stock breaks support
Visteon's stock is currently trading at 5.6% above the 20-day moving average, 9.4% above the 50-day moving average, and 11.0% above the 200-day moving average. It broke the support of the 20-day, 50-day, and 200-day moving averages throughout 2015.
The First Trust Consumer Discretionary AlphaDEX ETF (FXD) invests 1.4% of its holdings in Visteon. The ETF tracks an index of large-cap and mid-cap US Consumer Discretionary stocks. The underlying index uses multifactor selection and tiered equal weighting. The YTD price movement of the FXD ETF is 0.66% as of November 4, 2015. The Vanguard Small-Cap Value ETF (VBR) invests 0.28% of its holdings in Visteon.
Peers
Article continues below advertisement
Performance of Visteon in 3Q15
The company reported net revenue of $808.0 million in 3Q15, a rise of 1.9% when compared to the net revenue of $793.0 million in 3Q14. The cost of sales as a percentage of sales fell by 1.1% in 3Q15 as compared to 3Q14. The net income and EPS (earnings per share) attributable to Visteon rose to $5.0 million and $0.12 per share, respectively, in 3Q15, as compared to net income and EPS of -$21.0 million and -$0.48 per share, respectively, in 3Q14. Cash and cash equivalents rose by 0.10% and inventories fell by 0.98% in 3Q15 on a quarterly basis. The current ratio rose to 4.05 in 3Q15 as compared to the current ratio of 3.92 in 2Q15.
On October 30, 2015, the company signed an agreement to sell its non-core automotive interiors plant in Berlin—held by Visteon Deutschland GmbH and APTUS GmbH—to APCH Automotive Plastic Components.
About Visteon
Visteon designs, engineers, and manufacturers vehicle cockpit electronics products and connected car solutions. It provides a product like instrument clusters, head-up displays, information displays, and connected audio.