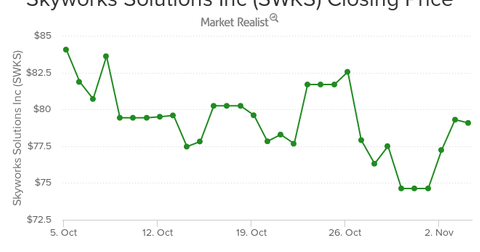 Why did PMC-Sierra Prefer Skyworks' Offer over Microsemi's?
By Puja Tayal

Updated
And the winner is Skyworks
In the previous part of the series, we saw Intel's (INTC) growth strategy to tap the internet of things space. PMC-Sierra (PMCS) has been a lot in the news lately as Microsemi (MSCC) and Skyworks Solutions (SWKS) competed to acquire a controlling stake in PMCS. The bid by Microsemi gave PMC-Sierra an edge to renegotiate with Skyworks and get a better offer. Both Microsemi and Skyworks revised their offer for PMC-Sierra, and the winner was Skyworks.
[marketrealist-chart id=791545]
PMC-Sierra said that Skyworks' all-cash offer provided greater value to shareholders against Microsemi's cash-stock offer.
Since the decision was announced on October 30, 2015, Skyworks' shares rose by 7.9% to close at $80.2 on November 4, 2015. Let's evaluate both offers in detail.
Article continues below advertisement
Old offers versus new
Skyworks raised its bid price by 10.4%, from $10.50 per share in cash to $11.60 per share in cash. Simultaneously, Microsemi raised its cash-stock bid offer by 3.7% from $11.50 per share—$8.75 in cash plus $2.75 in stocks—to $11.88 per share, divided as $9.04 in cash plus ~$2.84 in stocks.
While Skyworks' offer values PMC-Sierra at ~$2.2 billion, Microsemi's offer values it at ~$2.3 billion. Looking at the two revised bids, Microsemi's offer is 1.7% higher than that of Skyworks.
Moreover, Skyworks revised up the termination fees from $70 million to $88.5 million.
PMC-Sierra's approach to the two revised bids
Even though Microsemi's offer was greater than Skyworks', PMC-Sierra opted for the latter as an all-cash deal potentially offers greater value than a cash-stock deal amidst capital market volatility, especially for semiconductor stocks.
PMC-Sierra explained that Microsemi's shares are currently trading near their five-year high. If we evaluate Microsemi's bid, taking a 60-day or a 90-day trading average of the stock's closing prices, the value of both the offers is almost the same. Microsemi's offer is subject to capital market volatility while Skyworks' is not, making the latter's offer superior.
PMC-Sierra is yet to respond to Microsemi's bid. The Vanguard Growth ETF (VUG) invests 0.11% of it portfolio in Skyworks.