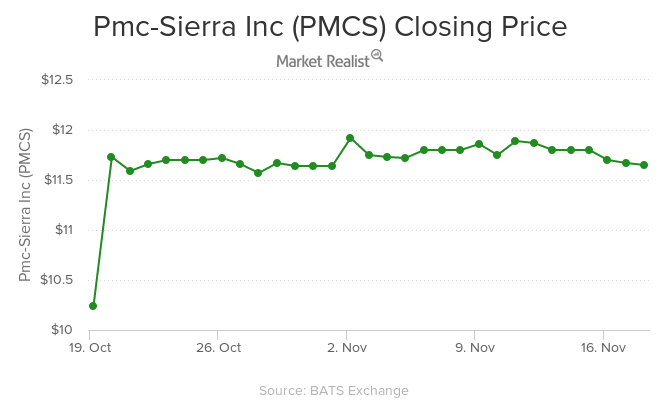 Microsemi Bids for PMC-Sierra for the Third Time
By Puja Tayal

Nov. 19 2015, Published 2:47 p.m. ET
Microsemi makes competing bid for PMC-Sierra for the third time
In the previous part of the series, we saw that Fairchild Semiconductor International (FCS) has entered the consolidation bandwagon after agreeing to be acquired by ON Semiconductor (ON). There's been a semiconductor consolidation trend this fiscal 2015. The possible acquisition of PMC-Sierra (PMCS) has been going on for quite some time. Skyworks Solutions (SWKS) and Microsemi (MSCC) have started a price war for the communications semiconductor company.
[marketrealist-chart id=829232]
On November 18, 2015, Microsemi made a counteroffer for the third time, valuing PMC-Sierra at $12.05 per share. On the same day, after the announcement, PMC-Sierra shares rose ~2% to close at $11.87. Let's look at the bidding battle in more detail.
Article continues below advertisement
Initial offer  
It all started on October 5, 2015, when Skyworks made an all-cash offer of $10.50 per share for PMC-Sierra. Both parties agreed to the deal. But on October 19, 2015, Microsemi challenged Skyworks' offer by making a counter cash-stock offer of $11.50 per share—$8.75 in cash and $2.75 in stocks.
Second offer
On October 30, 2015, PMC-Sierra rejected Microsemi's offer in favor of Skyworks' offer. Skyworks had raised its offer to $11.60 per share in cash. Then Microsemi made a counter cash-stock offer of $11.88 per share—$9.04 in cash and ~$2.84 in stocks.
PMC-Sierra rejected Microsemi's second offer, stating that Skyworks' all-cash offer was superior to Microsemi's cash-stock offer, since the latter's shares were trading near their five-year high.
Third offer
Microsemi responded to PMC-Sierra's reasoning and has now made an offer for the third time, increasing the cash component. The revised offer values PMC-Sierra at $12.05 per share, with a cash component of $9.22 and a share component of $2.83.
Whether PMC-Sierra accepts the revised $12.05 offer remains to be seen, as the company will have to pay Skyworks a termination fee of $88.5 million if it backs out of the deal.
You can invest in PMC-Sierra through the Vanguard Extended Market ETF (VXF), which has a 0.06% exposure in the company's stock.