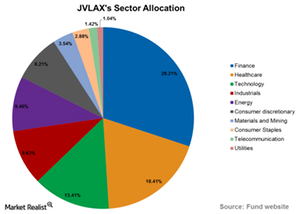 Exploring the John Hancock Disciplined Value Fund
By Seth Bennett

Updated
The John Hancock Disciplined Value Fund
The John Hancock Disciplined Value Fund (JVLAX) invests 80% of its net assets in equities with a market capitalization greater than $1 billion, and the fund may invest 20% in foreign currency denominated securities. The fund has the Russell 1000 Value Index as its benchmark index. The investment style includes investing 15% in illiquid securities. The JVLAX fund also participates in an initial public offering of securities. Every company in the fund is examined on the basis of multiples like the price-to-book value ratio and the price-to-earnings ratio.
Article continues below advertisement
Key details
The JVLAX fund was launched in December 2008. Its current assets under management are $12.8 billion as of September 2015. Its Sharpe ratio, a generic measure for calculating risk-adjusted returns, for a ten-year period ending September 2015 was 0.43. A higher Sharpe ratio indicates a better risk adjusted return. The Sharpe ratio helps in comparing the performance of one portfolio with another portfolio by making an adjustment for risk.
The top invested sectors of the JVLAX fund are finance, healthcare, and information technology, forming 29.2%, 18.4%, and 13.4%, respectively, of the fund's net assets, as of September 2015. The JVLAX fund has a portfolio exposure of 9.2% in the energy sector as of September 2015.
Key holdings
As of September 2015, the JVLAX fund is invested in 88 companies, with its top ten holdings making up 32.7% of its portfolio. Its top holdings include Cisco (CSCO), Berkshire Hathaway Class B (BRK-B), Occidental Petroleum (OXY), and Pfizer (PFE).
In the next article, we'll analyze the performance of the JVLAX fund.