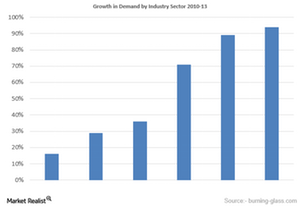 Cybersecurity Jobs to Increase 53% by 2018
By Parker Thomas

Updated
Demand exceeds the supply of cybersecurity professionals
The incidence of sophisticated cyberattacks increases with the rise in demand for people who can prevent intrusion. According to the US Bureau of Labor Statistics, more than 0.21 million cybersecurity positions are unfilled in the United States. The demand for security professionals is likely to grow by 53% by 2018. Moreover, the demand for cybersecurity professionals grew 3.5 times faster compared with that of other IT jobs and 12 times faster than the demand for other jobs.
Article continues below advertisement
Why is there a lack of security professionals?
Enterprises across industries such as finance, retail, and education are seeking qualified professionals who can implement comprehensive solutions for a wide range of business processes. However, there are not enough people to provide these organizations with the proper security measures. This could be due to the persistent learning required to keep up with the changes in security.
Experts believe that the shortage of cybersecurity professionals exceeds one million­­, with the federal government currently seeking 10,000 candidates. The trend will continue in the future with the growing number of features and as more objects are digitalized. The shortage of security professionals is not only a concern for IT (information technology) experts. It's also a matter of national security and defense of privacy and property.
The PureFunds ISE Cyber Security ETF (HACK) is a portfolio of 32 stocks. Check Point Software Technologies (CHKP), Fortinet (FTNT), Proofpoint (PFPT), and Cisco Systems (CSCO) constitute 4.1%, 5.0%, 3.9%, and 4.3%, respectively, of the ETF.