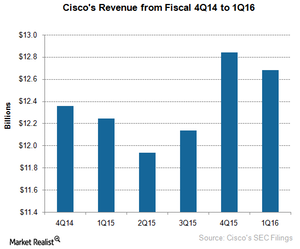 Why Did Cisco Shares Fall 5% despite Upbeat Earnings?
By Puja Tayal

Updated
Cisco beats analysts' estimates
Networking giant Cisco Systems (CSCO) reported its fiscal 1Q16 earnings on November 12, 2015, after the markets closed. The company's revenue rose 3.6% YoY (year-over-year) to $12.68 billion in fiscal 1Q16, beating the consensus estimate of $12.65 billion and topping its own forecast for $12.65 billion.
The company's non-GAAP (generally accepted accounting principles) EPS (earnings per share) rose 9.3% YoY to $0.59, beating the analysts' estimates of $0.56.
Article continues below advertisement
Cisco's shares fall
Despite upbeat fiscal 1Q16 results, Cisco's shares fell 4.96% to $27.83 in the after-hours trading session on November 12, 2015. The shares fell as the company posted weaker guidance for fiscal 2Q16 due to unfavorable macroeconomic factors.
Plus, currency exchange issues across the Asia–Pacific region impacted Cisco's order book. We will evaluate the company's guidance in detail later in this series.
Revenue trend
As a networking hardware provider, Cisco Systems faces business cycle shifts before some of its peers experience these shifts. After several quarters of depressed results, revenues started to pick up in the latter half of fiscal 2015, as seen in the above graph.
The company's fiscal 1Q16 revenues were driven by a rebound in the switching sector, which occurred after months of decline and faster growth in new products such as conferencing hardware and software. We will analyze each segment in detail in the next part of this series.
Article continues below advertisement
Profitability
On a non-GAAP basis, Cisco's gross margin rose from 62.3% in fiscal 1Q15 to 63.20% in fiscal 1Q16. The company's operating margin improved from 19.13% in fiscal 1Q15 to 24.30% in fiscal 1Q16 as operating expenses fell 4.77% YoY. Net income increased 33% YoY to $2.43 billion.
Cash position
In fiscal 1Q16, Cisco (CSCO) generated $2.8 billion in cash from operating activities, up 11% YoY. The company spent $1.1 billion in dividend payments and $1.2 billion in share buybacks. As of October 24, 2015, the company's total cash reserves stood at $59.1 billion, of which only $5 billion was available in the United States. This shows the company's sensitivity to foreign currency fluctuations.
The company's leadership changed hands in July 2015, when Chuck Robbins became CEO after John Chambers stepped down after 20 years. Robbins utilized partnerships instead of acquisitions to drive growth. Recently, the company entered into a strategic partnership with Apple (AAPL) and Ericsson (ERIC). The Cisco–Ericsson deal negatively impacted Juniper (JNPR), which was an acquisition target for Ericsson.
Investors can gain diversified exposure to Cisco through the PowerShares QQQ Trust ETF (QQQ). QQQ has ~2.67% of its holdings in the company's stock.