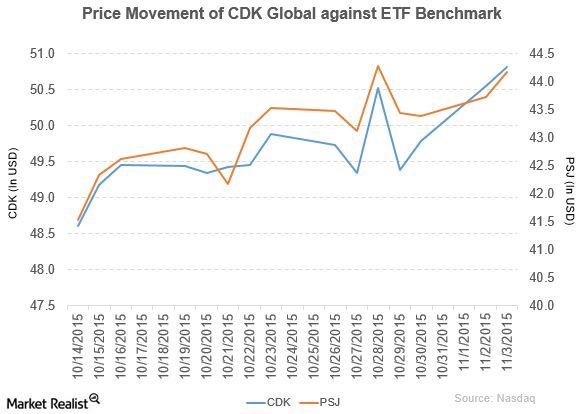 CDK's Revenue and Income Rise in 1Q16
By Gabriel Kane

Nov. 4 2015, Published 8:43 a.m. ET
CDK's price movement
CDK Global (CDK) has a market capitalization of $8.1 billion. CDK's YTD (year-to-date) price movement was a mix of rises and falls in 2015.
After releasing its 1Q16 earnings report, CDK rose by 0.53% to close at $50.82 per share as of November 3, 2015. Its price movements on a weekly, monthly, and YTD basis are 3.0%, 2.1%, and 25.6%, respectively.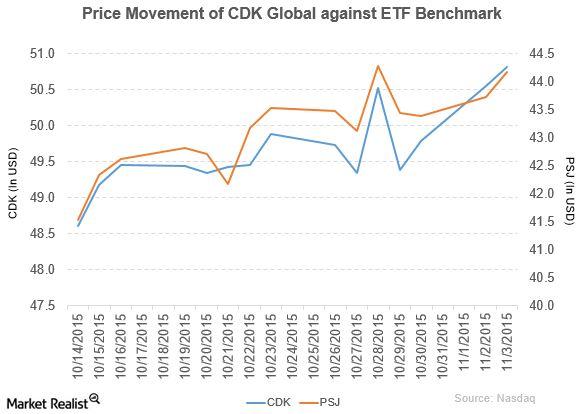 CDK's stock has broken the support of its 20-day and 50-day moving averages and sometimes its 200-day moving average throughout 2015. Currently, it's trading at 2.4% above its 20-day moving average, 2.6% above its 50-day moving average, and 2.5% above its 200-day moving average.
The PowerShares Dynamic Software ETF (PSJ) invests 2.6% of its holdings in CDK. The ETF uses a quantitative model to choose US software companies across the market capitalization spectrum. The YTD price movement of PSJ is 11.0%.
CDK Global's competitors and their market capitalizations are:
Article continues below advertisement
Performance of CDK Global in 1Q16
CDK Global reported 1Q16 net revenue of $514.6 million, a rise of 2.3% when compared to its net revenue of $503.1 million in 4Q15. Adjusted revenue from its Automotive Retail North America and Digital Marketing segments rose by 0.81% and 5.4%, respectively, and adjusted revenue from its Automotive Retail International segment fell by 7.4%, respectively, in 1Q16.
The company's cost of revenue as a percentage of revenue fell by 3.2% in 1Q16. Its 1Q16 net income and EPS (earnings per share) rose 43.3% and 48.0%, respectively, on a quarter-over-quarter basis to $61.2 million and $0.37 per share, respectively.
The company's cash and cash equivalents fell by 11.9%, and its accounts receivable rose by 6.1% in 1Q16. Its current ratio rose to 1.92 and its debt-to-equity ratio fell to 2.09 as compared to its current and debt-to-equity ratios of 1.77 and 2.21, respectively, in 4Q15.
In 1Q16, some of CDK's key activities were as follows:
The company made plans to open a new Services Center of Excellence in the Greater Cincinnati area.
The company started rolling out its newest product, Dealer Data Exchange, for managing data integration and syndication after successful testing with ~500 pilot dealers.
The company declared a regular quarterly cash dividend of $0.12 per share on its common stock.
As per Al Nietzel, CDK's chief financial officer, "We are confirming our full year forecasts, although we anticipate challenges in the second quarter due to continued pressure from unfavorable foreign exchange rates and year-over-year comparisons."
The company has projected the following figures for fiscal 2016:
Adjusted revenue: $2,097.3–$2,118.2 million from $2,017.3 million in fiscal 2015.
Adjusted net earnings attributable to CDK: more than $263.1 million from the adjusted $210.5 million in fiscal 2015.
Adjusted net earnings attributable to CDK per share: more than $1.62 per share from the adjusted $1.30 per share in fiscal 2015.
About CDK
CDK Global provides integrated information technology and digital marketing solutions to the automotive retail industry. This includes automobile, truck, motorcycle, marine, recreational vehicle, and heavy equipment dealers.