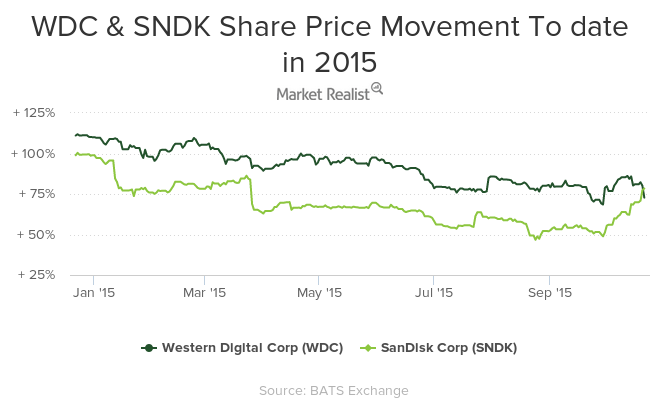 Western Digital's Offer for SanDisk Includes 15% Premium
Western Digital's offer for SanDisk
October 21 held a special importance for SanDisk (SNDK) as well as its investors. The company not only exceeded analysts' expectations with its fiscal 3Q15 results, but it also got a buyer: Western Digital (WDC).
To acquire SanDisk, Western Digital has offered SanDisk shareholders $86.50 per share. This is approximately 15% premium to SanDisk's closing share price on October 20, 2015. On the back of Western Digital's announcement, SanDisk shares rose ~2% to $76.78 on October 21.
[marketrealist-chart id=745154]
Article continues below advertisement
SanDisk's shareholders benefited from buyout news; Western Digital shareholders are still waiting
SanDisk investors have benefited a lot from the acquisition news. Nearly a month ago, SanDisk's share price was trading in the range $57–$60. Apart from the 15% premium Western Digital has offered SanDisk and if we consider SanDisk's share price almost a month ago, the current offer provides ~63% premium to SanDisk shareholders. SanDisk's share price gained momentum when news of a possible sale of SanDisk surfaced in the market.
However, a SanDisk acquisition has failed to cheer Western Digital investors. WDC shares fell ~5% to $71.40 on October 21. So far in 2015, Western Digital shares have lost approximately 33% of their value, as you can see in the above graph. You may want to read Why Western Digital May Want to Acquire SanDisk.
In October 2015, the tech space saw one of the largest acquisitions when Dell announced the acquisition of EMC (EMC) for $67 billion. On October 21, the day Western Digital announced the acquisition of SanDisk, Lam Research (LRCX), a chip tool manufacturer, announced the acquisition of KLA-Tencor (KLAC), a chip manufacturer, for $10.6 billion.
You can consider investing in the SPDR S&P 500 ETF (SPY) to gain exposure to the tech sector. SPY invests about 18% of its holdings in the technology sector.