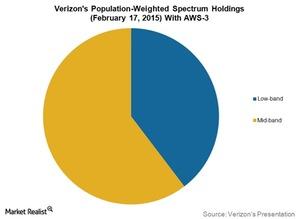 Verizon 3Q15 Earnings: The 600 MHz Spectrum Auction in 2016
Verizon on spectrum requirements
During Verizon's (VZ) 3Q15 earnings conference call on October 20, 2015, Verizon's CFO and EVP, Fran Shammo, talked about how important the 600 MHz or megahertz spectrum is for the company. Note that the FCC's (Federal Communications Commission) 600 MHz auction is expected to begin on March 29, 2016.
According to Shammo, "We deployed LTE contiguously on 700 megahertz. That doesn't mean that we can't operate with 600 megahertz, but 600 and 700 don't play well together. There's a lot of interference." He added, "So where we have 700, there would be a lot of work to deploy a 600 megahertz spectrum. But there's areas where we could use lower band spectrum, but it's probably not the top priority. We like the higher band like AWS."
Article continues below advertisement
Verizon's spectrum portfolio
The low-band coverage spectrums are useful for carriers providing coverage over large rural areas. These spectrums also help boost the in-building penetration in urban areas. Verizon and AT&T (T) have significant low-band spectrum holdings in the United States. The other two wireless carriers, Sprint (S) and T-Mobile (TMUS), among the top four have a relatively small proportion of these coverage spectrum holdings.
As we mentioned above, Verizon prefers spectrum holdings in AWS (Advanced Wireless Services)—the mid-band spectrum. These spectrums have proportionate coverage and capacity attributes, which are of particular importance for catering to smartphone users. These users tend to consume a lot of data.
Instead of taking on direct exposure to Verizon's stock, you may take on diversified exposure to the telecom company by investing in the SPDR Dow Jones Industrial Average ETF (DIA). The ETF invested ~1.9% of its portfolio in the telecom company at the end of August 2015.