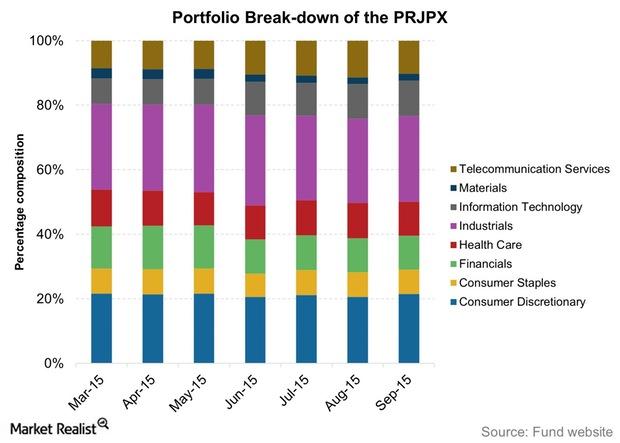 The T. Rowe Price Japan Fund (PRJPX): Historical Overview
By David Ashworth

Oct. 23 2015, Updated 4:25 p.m. ET
An introduction
The T. Rowe Price Japan Fund (PRJPX) seeks "long-term growth of capital through investment in the common stocks of companies located, or with primary operations, in Japan."
The fund house has the view that even though economic growth in Japan has slowed, several important aspects of a productive economy remain firmly in place. Aspects like "a strongly motivated workforce and first-class technical and production capabilities" are important to an economy, and remain unscathed in Japan.
Before looking at the fund's performance in mid-2015, we should consider the following facts:
Article continues below advertisement
PRJPX is well diversified, with 75 holdings as of September 2015.
It was managing assets worth $294.08 million at the end of September.
As for the fund's September portfolio, its top equity holdings included Nippon Telegraph and Telephone Corporation (NTT), NTT Docomo (DCM), Honda Motor Company (HMC), and Fanuc Corporation (FANUY), which together make up 10.4% of the fund's total portfolio.
The fund's top ten holdings make up 26.4% of its total assets.
Historical portfolios
Keep in mind that, for our purposes of analysis, we'll be considering the fund's holdings as of June 2015, because this is the latest available complete portfolio information with us. PRJPX's holdings after June reflect valuation-driven changes to the portfolio, not the actual holdings themselves. We should also keep in mind the following:
The fund has industrials at its core, which unlike some of its peers, has increased exposure to the sector as compared to September 2014.
Consumer discretionary is the other sector, apart from industrials, which has over 20% exposure in the portfolio.
PRJPX has no investments in either the energy or the utilities sectors.
Additionally, a crucial look at the fund's sectoral allocation since September 2014 shows the following three major portfolio moves:
PRJPX's exposure to the industrials sector increased from over 21.4% in September 2014 to 26.6% in September 2015. Since industrials have not fared too well in the period, this shows that exposure to the sector was increased—and not due to any rise in valuations.
Similarly, exposure to information technology and telecom services sectors increased in over the previous year.
Meanwhile, the exposure to financials fell from a peak of over 17% in December 2014 to 10.5% as of September 2015. A fall in stock prices is responsible for some of this sector's reduction, but the remainder can be explained by a decision to consciously reduce exposure.
But how did the T. Rowe Price Japan Fund (PRJPX) perform in September 2015? Continue to the next part of this series to find out.