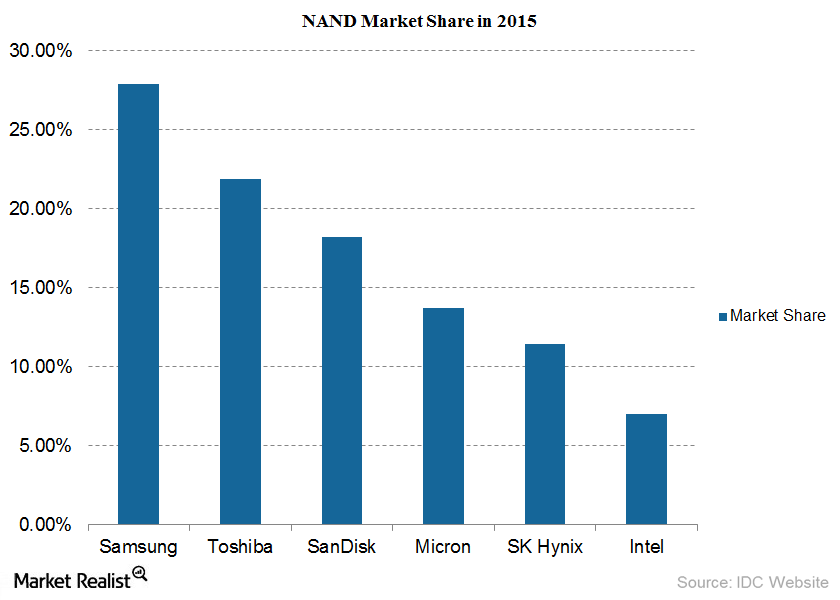 Is the NAND Market a Growth Driver for SanDisk?
Major players in the NAND segment
As seen in the below chart, the major players in the NAND space are Samsung, with a 27.9% market share, followed by Toshiba, SanDisk (SNDK), and Micron (MU), with market shares of 21.9%, 18.2%, and 13.7%, respectively.
SK Hynix and Intel (INTC) are the other major players in this segment, with 2015 market shares of 11.4% and 7%, respectively.
Article continues below advertisement
NAND market: Growth opportunity
According to DRAMeXchange, the NAND flash memory market is expected to grow at 12% in 2015. It is projected to grow rapidly, with double-digit growth, in the next few years. However, this industry is extremely cyclical and as seen in cyclical industries, companies flood the market space with products when demand is strong. This causes prices to drop drastically, resulting in reduced production. Prices then start to rise due to low supply and high demand, which makes it almost impossible to predict a firm's gross margins on a quarterly or yearly basis.
The NAND flash market is expected to reach $27.6 billion by the end of fiscal 2015. "Embedded products manufactured on next-generation process technology became mainstream in the market in the third quarter, improving vendors' cost structure," said Sean Yang, assistant vice president of DRAMeXchange, in a December 2014 statement. Demand was expected to be constrained in the first half of 2015 due to new hardware devices released in the last two quarters of 2014. Yang expects demand to increase in the second half of 2015, easing "any potential oversupply that occurs in the preceding two quarters."
While the NAND segment is poised for phenomenal long-term growth, analysts will be keeping an eye on the volatility of product prices that impact the margins of companies in this sector.
SanDisk comprises 0.31% of the Technology Select Sector SPDR ETF (XLK) and 0.23% of the Powershares QQQ ETF (QQQ).