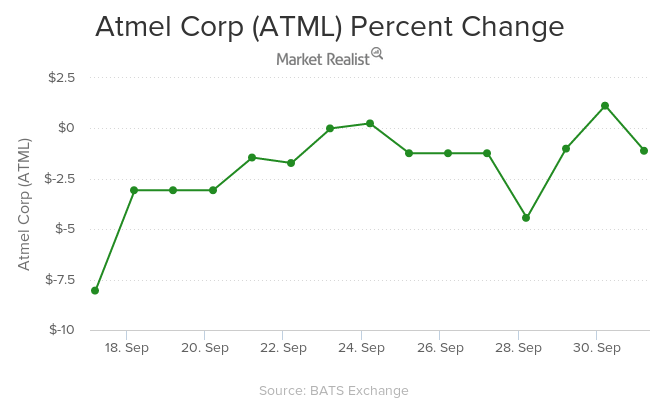 Key Points of the Atmel-Dialog Merger Agreement
How will the Atmel-Dialog merger unfold?
The UK-based chip maker Dialog has agreed to buy US-based Atmel (ATML) for approximately $4.6 billion to expand in the automotive and Internet of Things space. Both companies' boards of directors have approved the deal, and it is now subject to regulatory and shareholder approval. The transaction is expected to be completed in 1Q16. The transaction is more of a merger, as both the companies are of a similar size.
[marketrealist-chart id=701292]
Article continues below advertisement
Atmel's shares rise after Dialog's offer
After the deal's announcement on September 20, 2015, Dialog's shares slumped 19%, the steepest decline in nine years, to 36.75 euros in Frankfurt while Atmel's shares rose 13% to $8.22 in New York. According to Bloomberg's data, the deal values Atmel at $10.42 per share, a 43% premium on the closing price of $7.27 as of September 18, 2015. The premium is more than double the 19% average premium paid by buyers in the comparable semiconductor acquisitions over the past year.
In 2015 there have been many major semiconductor consolidations. Intel (INTC) acquired Altera (ALTR) for ~$16.7 billion and Freescale acquired NXP Semiconductors (NXPI) for $11.8 billion.
How will Dialog fund Atmel's acquisition?
Dialog plans to pay the $4.6 billion amount using a combination of cash and stock. The company will issue approximately 49 million American depositary shares to Atmel shareholders and pay the remaining amount in cash. These American depositary shares may be either listed on the New York Stock Exchange or the NASDAQ Stock Market and give Atmel shareholders a ~38% stake in the merged entity. American depositary shares are equity shares of a foreign company valued in US dollars and traded on an American stock exchange.
The company would source the cash amount from its existing cash reserve and a $2.1 billion senior secured credit facility it has secured from Morgan Stanley. It expects to repay the debt in approximately three years after the transaction is closed.
The iShares Core S&P Mid-Cap ETF (IJH) has 0.23% exposure in Atmel.