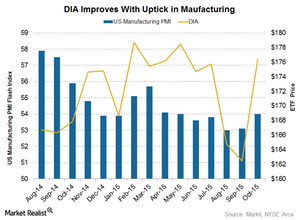 Key for Investors: US Manufacturing Rebounds in October
Manufacturing rose to 54 in October
The manufacturing industry contributes about 12% of the US GDP (gross domestic product). According to Markit, the US Manufacturing PMI (purchasing managers' index) rose to 54 in October in a preliminary reading—compared to a reading of 53.1 in September 2015. It's above the market consensus of 53.
Article continues below advertisement
DIA improves with an uptick in manufacturing
An uptrend in manufacturing activity is a good sign for overall economic growth. With a rise in manufacturing, the SPDR Dow Jones Industrial Average ETF (DIA) rose 5.1% from a year ago as of October 23. DIA recorded a gain of 8.9% from last month. It erased the previous price loss.
Even industrial stocks like American Airlines (AAL) and Roper Technologies (ROP) recorded double-digit gains of 14.4% and 17.2% over the past year as of October 23. Most of these gains have been seen in the last month. The stocks rose by 13.5% and 14.9% over the previous month.
Fall in steel prices keeps input costs lower
Overall strengthening in manufacturing activity was seen in October with a rise in the production levels. The volume of new work rose with an improvement in domestic demands and competitive pricing strategies. An uncertain global environment and a strong dollar kept export growth slow in October. However, it was the fastest since February. Job creation saw a rise in the improved business sentiment. However, manufacturers are cautious about inventory holding and buying inputs in October.
Falling raw material prices, especially for steel, and the strong dollar rate have kept the input costs at low levels. Even factory gate charges didn't change with intense competition in this space. Steel and iron manufacturers Nucor (NUE) and Steel Dynamics (STLD) fell 16.7% and 14.5% from a year ago. They rose 12.7% and 6.5% over the past month as of October 23.
US manufacturers are cautious about new capital spending due to the weak global outlook and low export orders. Although manufacturing activity showed an overall rebound in October, it has to strengthen more to develop confidence and improve businesses' sentiments going ahead.
Markit also came out with its PMI reports for other countries. This included the started publishing manufacturing and service sector data, the Markit Eurozone PMI Index. We'll discuss this in the next part.