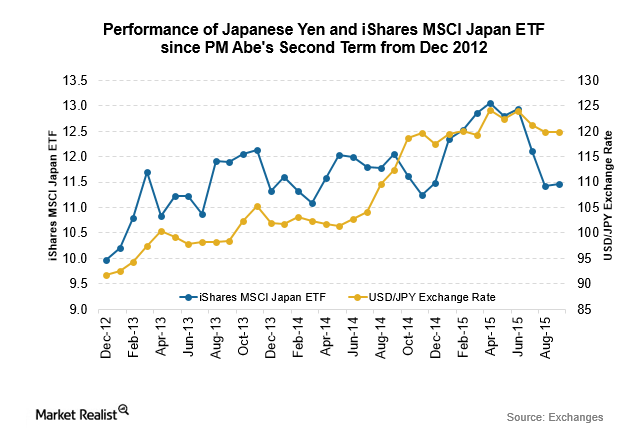 Japan's Deleveraging Has Struggled for 2 Decades
By David Meyer

Oct. 7 2015, Published 6:37 a.m. ET
Japan's "ugly deflationary deleveraging"
Japan has been going through a difficult deleveraging phase for more than two decades after the private sector bubble burst in 1989. Since then, Japan has kept its policy at an eased stance in order to revive fiscal growth in the economy. However, the stimulus infusion wasn't enough. The country has been facing high deflationary risk. The money printing by the BoJ (Bank of Japan) contributed more towards short-term cash-like assets with a low duration. As a result, it failed to provide the necessary push. The government's debt-to-GDP (gross domestic product) ratio stood at 230% towards the end of 2014. It recorded a steady rise since the 2008 global recessionary crisis. According to Ray Dalio, Japan has been stuck in "ugly deflationary deleveraging" for more than 20 years.
Article continues below advertisement
Abenomics and the QE
"Abenomics" refers to the "three arrows" of fiscal stimulus, monetary easing, and structural reforms. They're economic policies that Japanese Prime Minister Shinzo Abe has advocated since December 2012. Abenomics was constructed to help Japan overcome the deflationary phase. Currently, the BoJ has a QE (quantitative easing) program in place. It's involved in a bond buying program to the tune of 80 trillion yen on an annual basis. The BoJ has been targeting an inflation rate of 2%. It prevented forces causing any appreciation in the domestic currency.
Impact on the market
Ever since Prime Minister Shinzo Abe started his second term in December 2012, ETFs like the iShares MSCI Japan ETF (EWJ) and the WisdomTree Japan Hedged Equity ETF (DXJ) rose by more than 15% and 32%, respectively. Export-oriented companies trading on US exchanges like Canon (CAJ), Sony (SNE), and Honda (HMC) received some benefits from the yen's devaluation, even though the effects were offset by the slowdown across China following the yuan's devaluation.