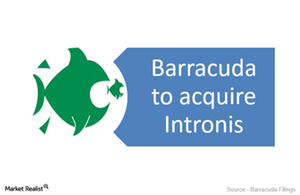 All Eyes on Intronis: Inside Barracuda Networks' Acquisition Announcement All Eyes on Intronis
Intronis acquisition should open new channel
Barracuda Networks (CUDA) has announced its intentions to acquire Intronis, a leading provider of data protection solutions to MSPs (managed services providers), in an effort to expand its channel reach by an additional 2000 MSPs. The acquisition should also offer Barracuda a more structured platform for delivering MSP services to their customers. Introsis has developed a strong market for meeting the emerging needs of MSPs, and its merger with Barracuda would allow its MSP partners to address the broader requirements of their customers.
Article continues below advertisement
Clients prefer MSPs over VARs
As organizations become more technology-driven to keep up with progress in IT (information technology), they have to build better IT infrastructures to serve their daily needs. According to CompTIA's survey on annual managed services, there's a growing number of customers looking to MSPs, who procure, deploy, and manage their IT initiatives. According to the survey, 72% of respondents use an MSP for backup or disaster recovery, whereas 68% rely on MSPs to serve better security.
According to the survey, VAR (value-added reseller) partners are switching over to the MSP model platform to meet the needs of their clients. Barracuda's acquisition of Intronis would thus benefit the company in three particular ways:
Barracuda could now leverage Intronis ECHOplatform, which many of Introsis's partners use as the foundation of their MSP.
Nearly 2000 MSPs are partners with Introsis today, which would help Barracuda extend its channel reach.
Barracuda would be able to accelerate growth in the market and expand customer opportunity.
The PureFunds ISE Cyber Security (HACK) is a portfolio of 32 stocks, of which Check Point Software Technologies (CHKP), Fortinet (FTNT), and Cisco Systems (CSCO) constitute 4.11%, 4.98%, and 4.30%, respectively.
Read the next part of this series for a look at HACK's September 2015 performance.