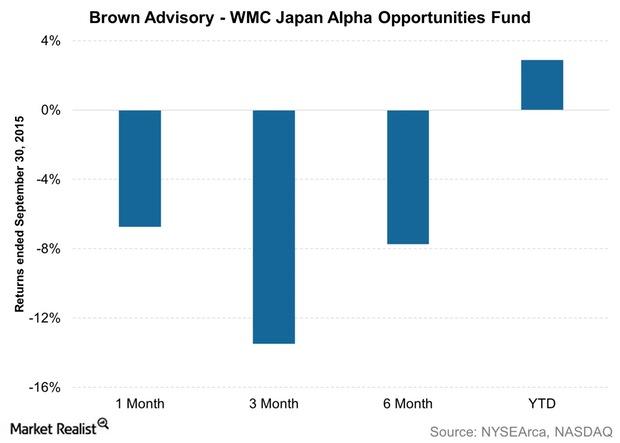 How the Brown Advisory-WMC Japan Alpha Opportunities Fund Fared in September 2015
By David Ashworth

Nov. 6 2015, Updated 12:04 a.m. ET
Performance evaluation
The Brown Advisory-WMC Japan Alpha Opportunities Fund (BIAJX) fell by 6.7% in September 2015 from the previous month. In the three- and six-month periods ending September 30, the fund fell by 13.5% and 7.7%, respectively. However, in the YTD (year-to-date) period, the fund was up by 2.9%.
For all periods mentioned above except the six-month period, the fund's performance places it in the middle of the pack of the nine funds we'll review in this series. But for the quarter ending in September, it was the worst performer among its peers.
Let's look at what contributed to this performance.
Article continues below advertisement
Portfolio composition and contributions to returns
The BIAJX has the shortest history among the nine Japan-focused mutual funds we'll review in this series, having been created in March 2014.
As we discussed in the previous part of the series, the fund's composition has not changed its portfolio much as of June 2015. Below is a key breakdown:
The consumer discretionary sector was the biggest sectoral holding, making up 21.8% of the portfolio.
Financials followed, with a portfolio weight of 17.1%, closely followed by stocks from the information technology sector, which make up 16.2% of the fund's assets.
The fund has a sizable exposure to cash as well.
An interesting aspect of the fund is its exposure to industrials, which form 10.5% of the portfolio—sharply lower than its benchmark index, the TOPIX Total Return US Dollar Hedged Index, which has industrials stocks comprising 20.1% of its holdings.
Here are a few key takeaways, including a further breakdown:
For an industry-driven nation like Japan, the exposure of the BIAJX to industrials is quite small compared to most of its peers.
Financials were the biggest negative contributors to returns in September 2015. T&D Holdings led the sector down, followed by Mitsubishi UFJ Financial Group (MTU).
Financials were followed by information technology stocks as the second-biggest negative contributor to overall returns in September. Nintendo (NTDOY) and Fujitsu were the prime detractors for the sector.
On the other hand, the consumer staples sector contributed positively to returns, thus reducing the fall in returns a bit. Ain Pharmaciez led the gainers, followed by Tsuruha Holdings and Seven & i Holdings Company.
Reasons for performance
The fund's performance could have been worse if it weren't for the fact that consumer discretionary stocks, the largest sectoral holding, were not the biggest negative contributors. But among financials, the top negative contributors were not the largest sectoral holdings.
In the next part of this series, we'll move on to an analysis of the Commonwealth Japan Fund (CNJFX).