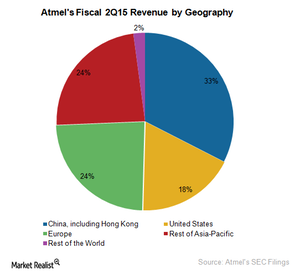 Atmel's Financial Highlights before Merger Announcement
Fiscal 2Q15 financial highlights
Article continues below advertisement
Revenue
In fiscal 2Q15, Atmel's revenue dropped 14% year-over-year to $306.4 million. More than 80% of the revenue came from countries outside the US with 57% coming from Asia-Pacific and 24% from Europe (VGK). This exposes the company to foreign currency exchange rate movements.
Microcontrollers are Atmel's key product with a contribution of 67% towards the company's overall fiscal 2Q15 revenue. After that came memory with 14% and automotive with 12%. Arrow Electronics, Avnet, and Samsung Electronics (SSNLF) are some of Atmel's key customers. Atmel is collaborating with Intel (INTC) on EPID (enhanced privacy identity) technology to enhance the security of Internet of Things applications.
For fiscal 3Q15, the company expects revenue to fall further and range between $283 million and $303 million.
Expenses
Atmel spends ~20% of its revenue on R&D (research and development) and 18%-20% on SG&A (selling, general, and administrative). These are the two main expenses that determine the company's operating profits.
Article continues below advertisement
Profitability
In fiscal 2Q15, Atmel's gross margin stood at 46.3% and its operating margin stood at 4.8%. Over the past five years, the company posted strong gross margins in the range of 41%-50%. However, high R&D and SG&A expenses have impacted its operating margins. The company reported an operating loss of ~$2 million in fiscal 2013.
Assets
As of June 30, 2015, Atmel's cash reserves fell ~25% to $196.4 million due to $10.9 million spent on acquisition of fixed assets, $16.7 million on dividend payment, $10.1 million on debt repayments, and $2.9 million on repurchase of common stock. Atmel posted a gain of $2.16 million from the sale of its XSense touch sensor assets to UniPixel.