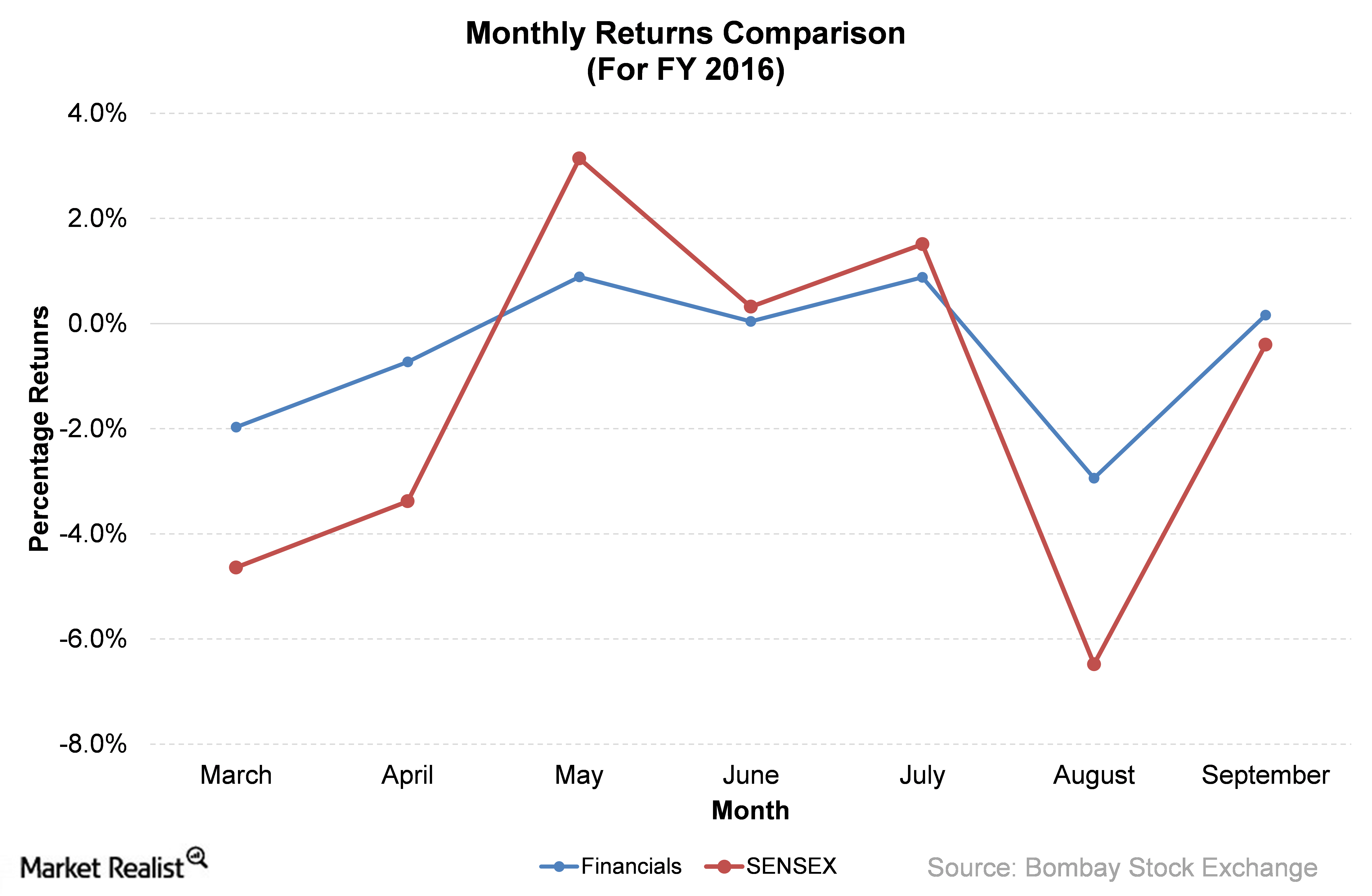 Assessing Financials: The Major Holdings in Indian Funds
By Pete Raine

Nov. 20 2020, Updated 5:16 p.m. ET
Financials are the major holdings in Indian funds
The three funds in this review—the ALPS Kotak India Growth Fund (INDAX), the Matthews India Fund (MINDX), and the Wasatch Emerging India Fund (WAINX)—provide investors access to Indian equities. The financial sector represents most of these funds' respective portfolios, according to their latest releases. As of June 30, 2015, INDAX invested over 31% in financials. As of September 30, 2015, MINDX invested 25.9% of its portfolio in financials. As of September 30, 2015, WAINX invested 24.4% of its portfolio in financials.
So analyzing the financial sector's volatility in the Indian equity market serves as a proxy for funds' risk. We present a comparative analysis of financial sector returns and the benchmark index, the S&P BSE SENSEX. The following chart shows the monthly returns.
Article continues below advertisement
Volatility compared
To measure volatility, we've computed the relative standard deviation (or RSD) of the returns. The standard deviation is the deviation of the data points from the mean of the data set. The RSD is the ratio of the standard deviation to the mean of the data set. The RSD is also called the "coefficient of variation" (or CV). We've calculated the RSD from an indexed value of returns.
While financials have an RSD of 22.5%, SENSEX has an RSD of 63.6%. The financial sector offers much stabler returns than the S&P BSE SENSEX. This could be good news for investors in Indian funds. HDFC Bank (HDB) and ICICI Bank (IBN) represent 4.6% and 3.6%, respectively, of the INDAX portfolio, according to the fund's most recent release for August 2015. As of September 2015, financials represented 24.4% of the WAINX portfolio. As of August 2015, Infosys (INFY), a technology giant (WIT), was the top holding in the INDAX portfolio.
To learn more about mutual funds, please visit Market Realist's Mutual Fund page