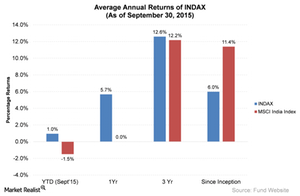 How Has the ALPS Kotak India Growth Fund Performed?
By Pete Raine

Oct. 28 2015, Published 6:35 p.m. ET
INDAX's portfolio
Being a growth fund, the ALPS Kotak India Growth Fund (INDAX) has a strategy of investing in large-cap blue-chip companies. It also has some exposure to mid-cap and small-cap stocks. At the same time, the fund has sectoral diversification also. As per the latest complete portfolio information as of June 30, 2015, the financial sector was the largest holding with a 31.1% exposure.
The fund is benchmarked against the MSCI India Index. The following chart shows the sectoral composition of the portfolio.
As of August 31, 2015, there were 55 total holdings in the fund. The top ten holdings formed 37.5% of the portfolio. The top holdings included blue-chip stocks such as Infosys (INFY), HDFC Bank (HDB), Axis Bank, Tata Consultancy Services, ICICI Bank (IBN), and ITC.
Article continues below advertisement
Fund performance
For the one-year period ended September 30, 2015, INDAX returned 5.7%. The top holding of the portfolio, INFY, which formed 4.9% of the fund's portfolio, has returned 20.8% over the same period. The second largest holding, HDB, returned 23.1% over the same period.
The following chart shows the average annual returns of the fund as compared to the returns of the benchmark index for different periods.
The inception date of the fund was February 14, 2011. The fund has returned 6% since inception. The YTD (year-to-date) return of the fund was about 1%. On a cumulative basis, the fund has returned 30.8% since inception. The fund has outperformed the benchmark index on a YTD basis over the one-year period and the three-year period.
In the next part, we will introduce another India-focused fund, the Matthews India Fund (MINDX).