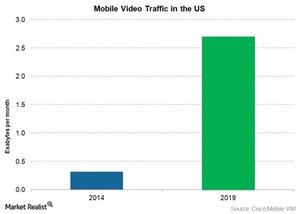 How Verizon's Go90 Should Fuel Verizon's Wireless Segment
By Ray Sheffer

Updated
The Go90 opportunity
Previously in this series, we talked about Go90, Verizon Communication's (VZ) "mobile-first" OTT (over-the-top) service. Recently, John Stratton, EVP and President of Operations at Verizon, spoke about the anticipated benefits Go90 will offer to the company's wireless segment at the Bank of America Merrill Lynch 2015 Media, Communications & Entertainment Conference on September 9, 2015.
Stratton stated that "in the case of Go90, we see opportunities to create value in many ways. One is—one that I am appropriately very interested in— driving wireless consumption." He went on to say that because video "is the engine that drives the data consumption on our networks and that is our primary value creator in Verizon … let's do a lot of that."
Article continues below advertisement
Mobile video traffic to grow significantly
In the US, video is expected to drive the medium-term growth in mobile traffic. In fact, for all the big wireless carriers, including AT&T (T), Verizon, and Sprint Corporation (S), video traffic should be a key growth driver.
According to Cisco Systems' (CSCO) VNI (Visual Networking Index) forecast, the consumption of mobile video is expected to grow significantly, from 317.8 petabytes per month to 2.7 exabytes per month in 2019. This forecast translates to an average annual growth rate of around ~53% during the period—a rate significantly higher than the similar figure for overall mobile data traffic growth anticipated in the US.
According to Cisco's forecasts, mobile data traffic in the US is expected to grow at an average annual growth rate of around ~47% during the 2014–19 period.
Instead of taking a direct exposure to Verizon's stock, you may consider taking a diversified exposure to the company by investing in the SPDR Dow Jones Industrial Average ETF (DIA) or the SPDR S&P 500 ETF (SPY).
Verizon made up ~1.9% of DIA as of August 31, 2015, and accounted for ~1.1% of SPY's holdings on the same date.
In the next part of this series, we'll look at Verizon's recent strategy to drop charges for NFL content streaming.