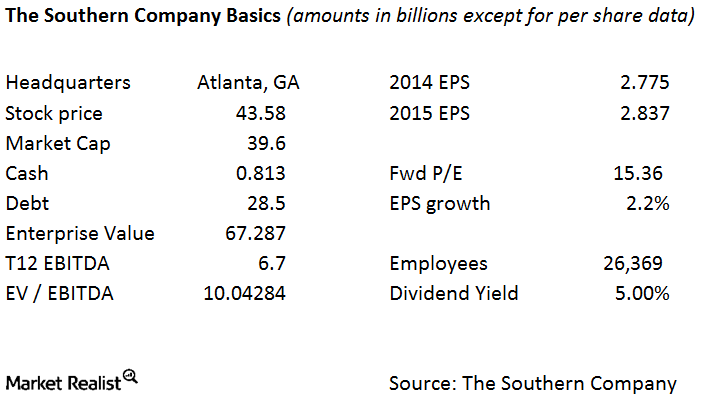 The Southern Company, an Electric Utility Holding Company
By Brent Nyitray, CFA, MBA

Sep. 1 2015, Published 11:44 a.m. ET
The Southern Company and its 5 major utilities
The Southern Company (SO) is a utility holding company. It holds all the outstanding stock of the following five major utilities: Alabama Power, Georgia Power, Gulf Power, Mississippi Power, and Southern Power Company.
Southern Power Company is an electricity wholesaler that operates in the non-regulated space. That means it can set its prices at market rates. That said, it's still regulated, but it answers to the Federal Energy Regulatory Commission (or FERC).
Article continues below advertisement
The other utilities are regulated utilities that must state public utility commissioners who set their rates in exchange for an exclusive franchise. Utilities are considered natural monopolies, which means there's often no need for more than one utility, and they're thus granted a monopoly franchise in return for strict regulation.
Alabama Power and Georgia Power are joint owners of SEGCO, a public utility that owns electric power generation assets in Alabama. Georgia Power is entitled to half of its generation capacity.
The Southern Company is buying AGL Resources (GAS) in order to help the transition from coal power generation to natural gas. Since the EPA (U.S. Environmental Protection Agency) has imposed higher restrictions on coal power generation, it makes sense for utilities to increase their capacity for natural gas generation. AGL Resources will help the Southern Company have more control over its supply of natural gas.
Article continues below advertisement
The Southern Company also holds interests in or controls SouthernLINC Wireless, Southern Nuclear, SCS (Southern Company Services), and Southern Holdings. SouthernLINC Wireless provides the wireless communications infrastructure for Southern Company as well as external customers. Southern Nuclear operates and provides services for Alabama Power's and Georgia Power's nuclear plants. SCS provides specialized services for the Southern Company, and Southern Holding is a holding company used for financial purposes such as leveraged leases.
Other merger arbitrage resources