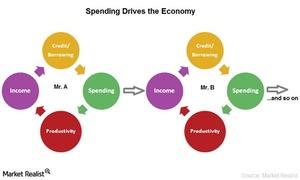 Japan's Growth Engine Needs a Rise in Consumer Spending
By Surbhi Jain

Sep. 23 2015, Published 10:17 a.m. ET
Spending drives the economy
In his template on How the Economic Machine Works, Ray Dalio repeatedly stressed the importance of consumer spending in driving an economy. As you can see in the following chart, one person's spending is another person's income. The other person's spending, of this acquired income, is a third person's income and so on. Spending has a huge trickle-down effect.
Article continues below advertisement
Japan's spending needs to rise
Consumer spending, to a huge extent, especially in developed economies, is influenced by the availability and rate of credit in the economy. Consumer spending in Japan did rise to some extent when Abenomics came into play starting in December 2012. Since 2014, consumer spending has mainly fallen. Now, it's back to where it was before Abenomics.
In regards to the consumer credit situation in Japan, the metric hasn't displayed any major rise. This is despite the fact that the interest rates have practically been zero bound since 2010. If interest rates are low, they can't lift the credit in the economy. So, what can lift the credit?
Let's also take a look at the money supply situation in Japan. The supply of money has been continually buffered by the central bank's easing measures in the past.
Increased money supply boosts Japan's equity markets
In early October 2010, the Bank of Japan announced that it would examine the purchase of 5 trillion yen, or ~$60 billion, in assets as part of a monetary stimulus package. However, it wasn't effective. Japan tried again in 2013. It reinforced an asset purchase program of 60–70 trillion yen a year under Shinzo Abe's regime. Since then, the yen continued its slide against the US dollar. The falling yen did help pump the Japanese equity markets (EWJ) (DXJ) as well as the stocks of exporters like Sony (SNE), Toyota (TM), and Honda (HMC). However, key economic indicators continued to lag.
Productivity is a key metric. According to Ray Dalio, productivity growth is what matters most in the long run. Next, we'll look at the productivity growth in Japan.