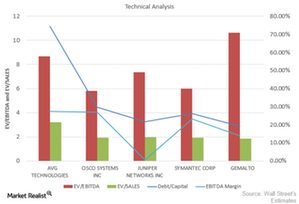 HACK: A Technical Analysis across Industries
By Parker Thomas

Updated
Technical analysis of HACK
For technical analysis, we'll consider stocks from different industries of the PureFunds ISE Cyber Security ETF (HACK). Technical analysis will measure each security on the same platform and provide us with a comprehensive measure of the key elements.
AVG Technologies (AVG) is highly leveraged in comparison to other stocks, with a debt-to-capital ratio of 74.45%. The debt-to-equity ratio measures a company's capital structure. Leveraging more debt will increase operating expenses and ultimately bring down a company's net income as well as its EPS (earnings per share). AVG Technologies' current EPS is sitting at $1.03, which is lower than most of its peers with the exception of Gemalto.
Article continues below advertisement
EV-to-sales and EV-to-EBITDA
If we focus on both EV-to-sales (enterprise value-to-sales) and EV-to-EBITDA (enterprise value-to-earnings before interest, taxes, depreciation, and amortization), a huge gap remains between the two for Gemalto, Juniper Networks (JNPR), and Symantec (SYMC).
The gap between EV-to-sales and EV-to-EBITDA represents the cost of goods sold (or COGS) and core operational expenses. COGS and core operational expenses remain too high for these companies. In comparison, AVG Technologies remains highly efficient in terms of core operational expenses, and CISCO (CSCO) has managed to keep both COGS and core operational expenses down in comparison to its peers.
The EBITDA margin is simply the EBITDA's percentage of sales. The higher the ratio, the better it is for the company. For Juniper Networks, the EBITDA margin remains too low at 0.55%, followed by Gemalto at 13.85%.
Cisco (CSCO) constitutes 0.81% of the SPDR S&P 500 ETF (SPY) and 2.78% of the PowerShares QQQ ETF (QQQ).