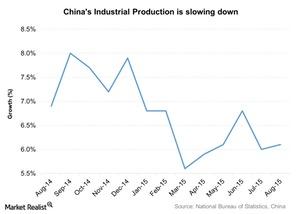 China's Industrial Production Data for August 2015
China's industrial production data
China's industrial production data were weaker than expected and grew by 6.1% year-over-year, or YoY, in August. Although growth was greater than the 6.0% in July, August's figure points to sluggish demand from domestic and foreign consumers.
The two primary reasons cited for the weaker factory output data are the massive explosion at the Tianjin port on August 12 and the closure of Chinese factories to keep pollution under control for the Victory Day Parade on September 3.
Article continues below advertisement
Slump in factory output and its consequences
With the current manufacturing slump in China's industrial production, achieving a gross domestic product, or GDP, growth rate of around 7% in 2015 seems difficult.
Further, China's statistics agency revised the GDP growth rate to 7.3% for 2014, compared to the previously reported 7.4%. The Chinese central bank may have to loosen further its monetary policy by cutting rates in the coming months.
Impact on mutual funds
All four China-focused mutual funds in this review, namely the Clough China Fund Class A (CHNAX), the Fidelity China Region Fund Class C (FHKCX), the John Hancock Greater China Opportunities Fund Class A (JCOAX), and the Matthews China Fund Investor Class (MCHFX), have more than 10% exposure to the industrials sector. Therefore, slow growth in factory output will adversely impact their overall performance.
With the industrial production slowdown, American Depository Receipts, or ADRs, such as CNOOC (CEO), Taiwan Semiconductor (TSM), and China Mobile (CHL) may see a negative impact.