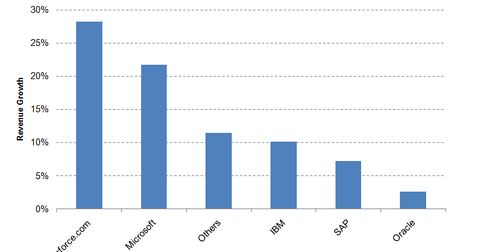 Microsoft to Acquire FieldOne to Boost Dynamics Experience
By Anne Shields

Updated
Microsoft to acquire FieldOne
On July 16, 2015, Microsoft (MSFT) announced its acquisition of FieldOne. FieldOne is a vendor of software that manages worker and customer activities in the field. Before the acquisition was announced, Microsoft and FieldOne formed a multiyear agreement in early 2015. Under this agreement, Microsoft Dynamics and FieldOne's tools were bundled together so that companies could access both in one package.
Article continues below advertisement
Because the core FieldOne platform is built on Microsoft Dynamics xRM Framework, it works easily with Dynamics CRM, Outlook, Office 365, Azure, Skype, and Yammer. The acquisition is being made to enrich Microsoft's Dynamic CRM online experience. Microsoft aims to integrate FieldOne with Azure and Cortana Analytics in future. Cortana is Microsoft's virtual personal assistant.
Aorato and Revolution Analytics are some of the other recent enterprise-focused acquisitions announced by Microsoft.

Dynamics CRM continued its triple digit growth in 4Q15
In 4Q15, Microsoft said, "total paid seats for Dynamics CRM online increased 140% year over year." In fiscal 3Q15, Microsoft's CEO Satya Nadella called Dynamics CRM online a $2 billion business.
In May 2015, Microsoft launched the Dynamics CRM online spring 2015 update. This update strengthens the tie between the Dynamics CRM online—the company's cloud-based CRM software platform—and MS Office, the company's flagship productivity offering. Its notable features include the ability to access and modify CRM data directly from Outlook, OneNote support. It also includes new mobile apps for Apple's (AAPL) iPhone, Google (GOOG) Android, and Windows Phone.
Salesforce.com leadership in CRM space attracted Microsoft
The above chart compares the industry's major players in terms of CRM revenue growth rates related to 2014 worldwide CRM sales. Salesforce.com (CRM) leads by a large margin, with a 28.2% revenue growth rate.
With these numbers in mind, it's clear that Microsoft wanted to acquire Salesforce.com to boost Microsoft Dynamics, its offering in the CRM space. Salesforce.com and Microsoft Dynamics are both CRM software packages that enable businesses to track and plan sales, marketing, and customer service efforts.
If you're bullish on Microsoft stock, you could invest in the PowerShares QQQ Trust, Series 1 (QQQ), which has 8% exposure to Microsoft.