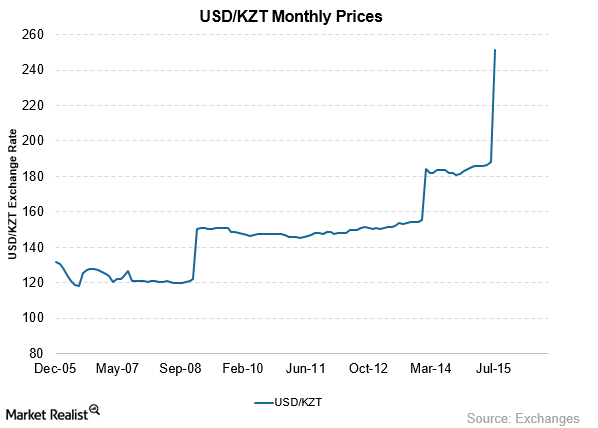 Kazakhstan Tenge Dives to an All-Time Low
Kazakhstan tenge becomes free float
On August 20, Kazakhstan prime minister Karim Massimov announced that the country is moving into a free-float regime, with its central bank monetary policy aiming to target inflation. Kazakhstan, which was part of the former Soviet Union, is presently Central Asia's largest crude exporter. The fall in crude prices itself was proving too difficult for the Kazakhstan government to handle.
Coupled with the depreciation of currencies of neighboring countries and trade partners, mainly Russia and China, this meant that Kazakhstan had to follow suit soon. The impending US rate hike may also have helped sway the decision in favor of a free float rather than further devaluation.
Article continues below advertisement
Tenge falls by 27.94%
The country had allowed its currency to depreciate on August 19 when it closed down by 4.5%—its biggest fall since February 2014. This dip was overshadowed on August 20, as the currency fell to an all-time low of 257.84 after the announcement of moving into the free-float regime.
Impact on the market
There was a negative movement in the iShares Asia 50 ETF (AIA), which fell 2.22% on August 20. On the same trajectory, the iShares MSCI All Country Asia Ex Japan ETF (AAXJ) was down 2.11%.
In terms of the American depository receipts (ADRs), a Russian company, Mobile TeleSystems (MBT) ended down 1.55%. Israeli companies Taro Pharmaceutical Industries (TARO) and Teva Pharma Industries (TEVA) also closed on a negative note, down 2.34% and 1.93%, respectively.